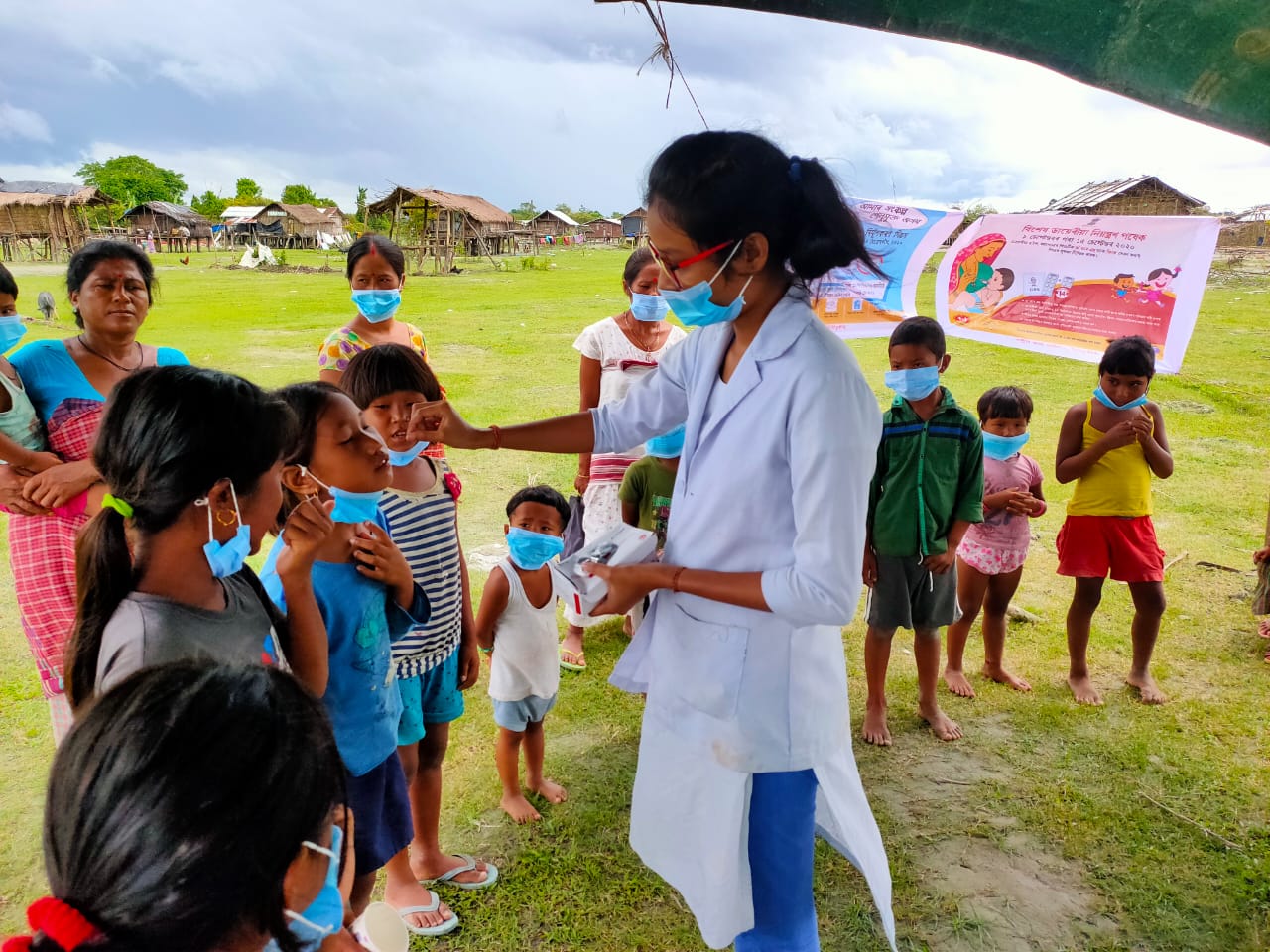 By the Brahmaputra (Vol: 52)
C-NES Newsletter
(For the quarter October – December 2020)
New Trustee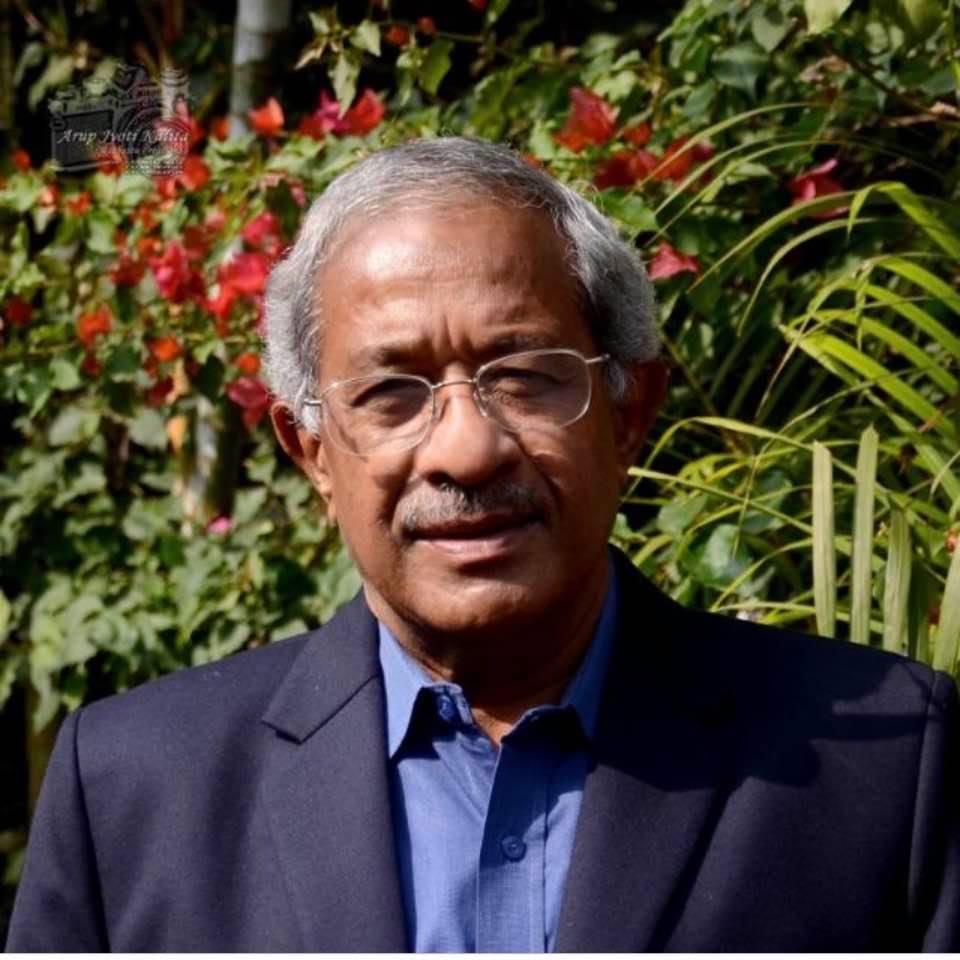 Mr H.S Das (IAS Retd), Former Principal Finance Commissioner, and State Chief Information Commissioner, Assam joins C-NES' eminent Board of Trustees. Das replaces Trustee Dr Jayanta Madhab, noted economist and scholar who passed away a month ago. GK Pillai,former Union Home Secretary is Chairman of the Trust, Sanjoy Hazarika, is the founder and Managing Trustee. The others are Niketu Iralu, Peace Activist, Nagaland.Patricia Mukhim, Editor, The Shillong Times, Meghalaya;Dr. Mahfuza Rahman, Retd. Professor, Cotton College, Guwahati, Assam and Ms. Preeti Gill, Literary Agent and Former Consulting Editor, Zubaan, New Delhi.
C-NES Panel Discussion
C-NES organized a panel discussion on Jan 4, 2021 around the question of numbers, data and the ebb and flow of power play in the NE with a focus on Nagaland. A new book Numbers in India's Periphery by Ankush Agrawal and Vikas Kumar on issues of the North-eastern region is studying major challenges from fresh perspectives: reviewing data and drawing narratives out of it. To discuss the book and the concerns it flags, C-NES organized the discussion .The speakers included Mr Gopal K.Pillai C-NES' chair and former Union Home secretary, Bano Haralu, celebrated conservator and editor, and Dr Veio Pou of Delhi university. Managing Trustee Sanjoy Hazarika moderated the session which witnessed intense participation by over 60 participants.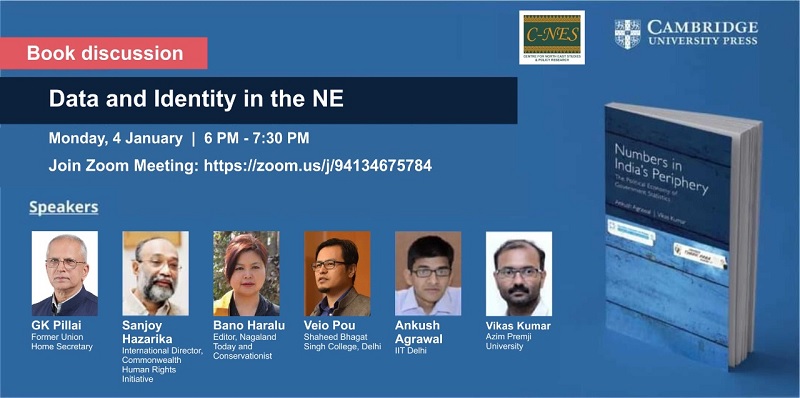 ---
From the Field:
National Deworming Day observed
The National Deworming Day is an initiative of Ministry of Health and Family Welfare, Government of India to make every child in the country worm free. This is one of the largest public health programs reaching large number of children during a short period.
More than 836 million children are at risk of parasitic worm infections worldwide. According to World Health Organization 241 million children between the ages of 1 and 14 years are at risk of parasitic intestinal worms in India, also known as Soil-Transmitted Helminths (STH).
---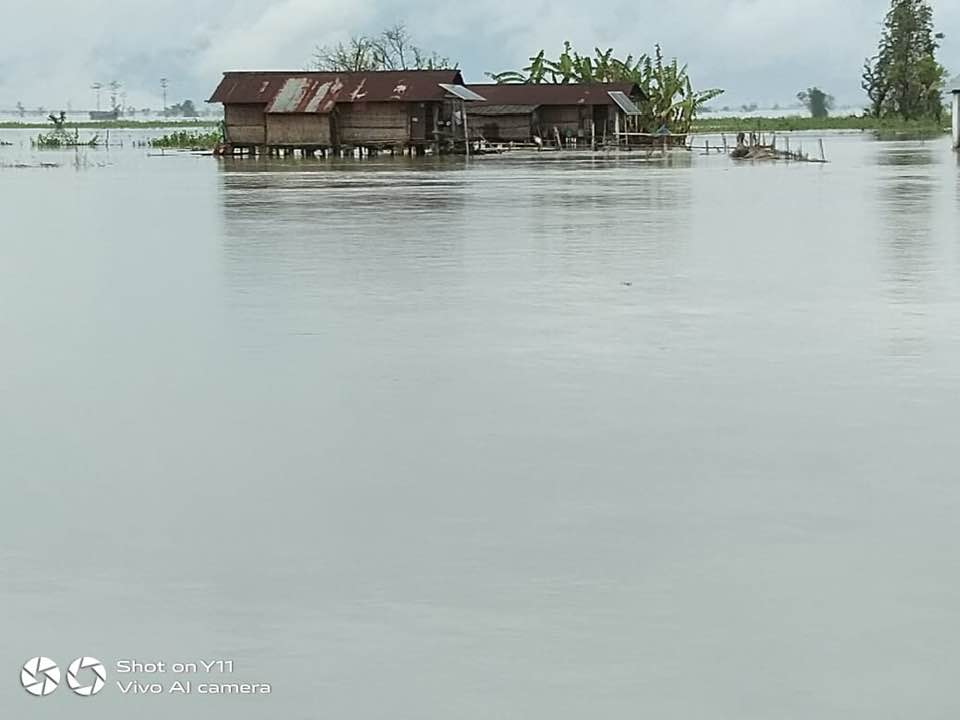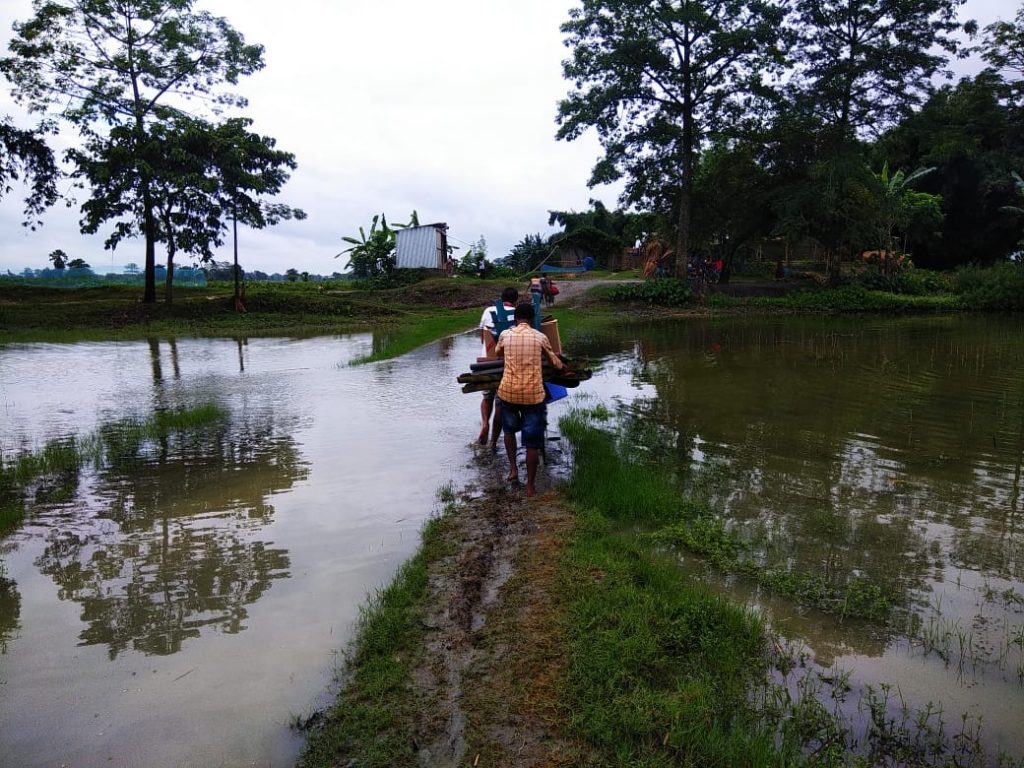 ---
Images from health camps conducted by the Dhemaji Boat Clinic in flooded Koilawali island village in September 2020
---
C-NES Visitors
Health Officials at Goalpara Boat Clinic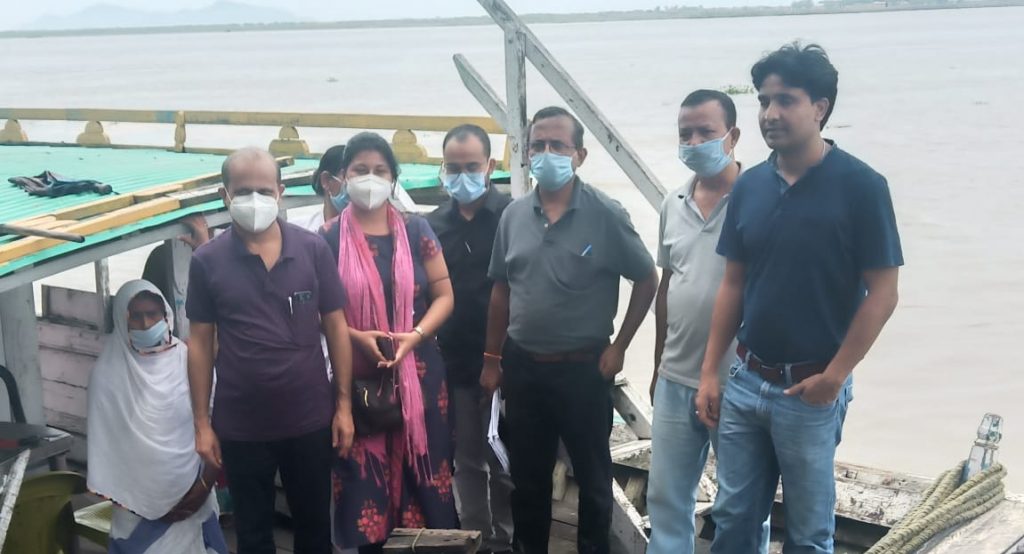 On 28th September 2020 the Goalpara Boat Clinic was visited by health officials led by the Joint Director health, DPM, and SDPM of Lakhipur in charge of char PHCto discuss conducting rapid antigen tests in char (river island)areas. The official team seen with the C-NES health staff including DPO Bandana Khound
---
Dibrugarh : Officials and members from Dibrugarh District Health Society along with Joint Director Health and members of Panitola BPHC visiting a boat clinic health camp TD plus vaccination session at Dodhíya Kuligaon island village. The Tetanus Plus (TD) vaccine is administered to boost the immune system of the body to prevent the infection and diphtheria.
---
Kamrup: Poshan Maah activities and community level SAM screening camp was conducted by Kamrup Boat Clinic at Bezortari char in presence of the Nutrition counselor, DCM and a research scholar on 28th September 2020. 39 children were screened out of which 2 were Severe Acute Malnutrition (SAM) cases.
The objective of Poshan Maah is to address malnutrition amongst young children and women and to ensure health and nutrition for all. Children with Severe Acute Malnutrition (SAM) have nine times higher risk of dying than well nourished children.
---
Covid Awareness Camps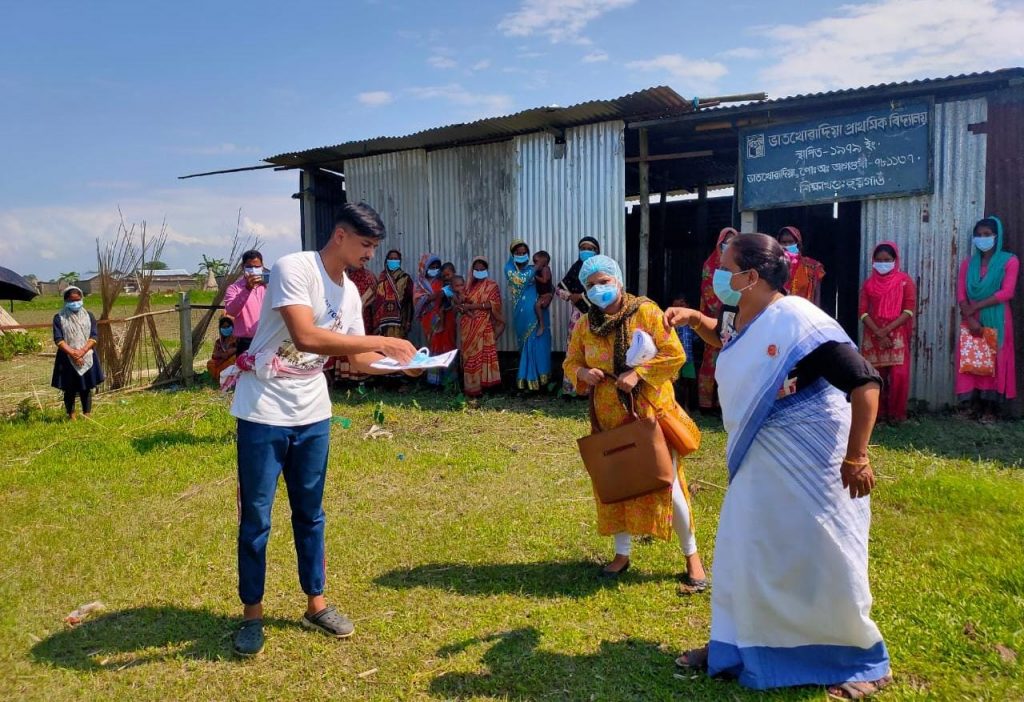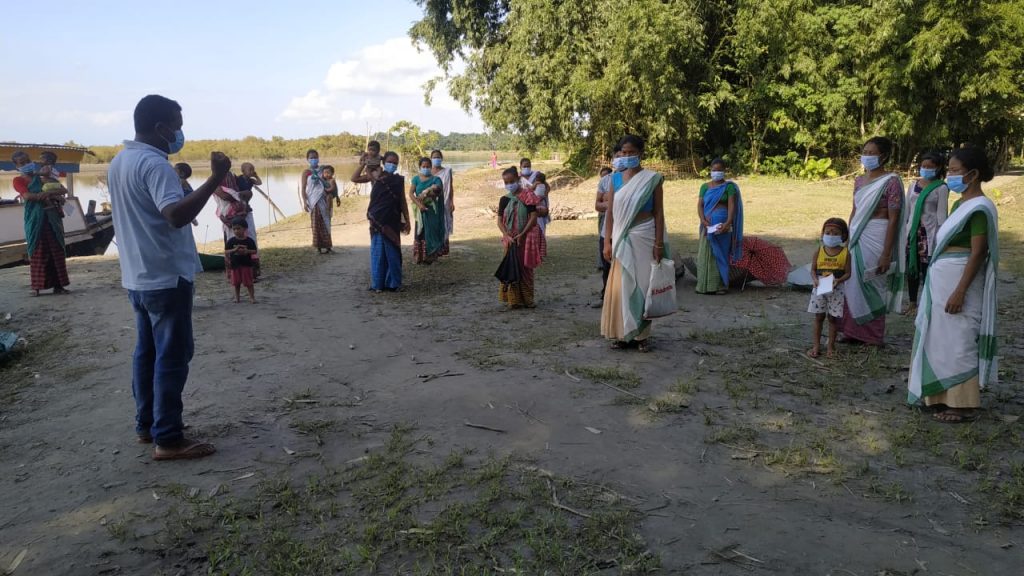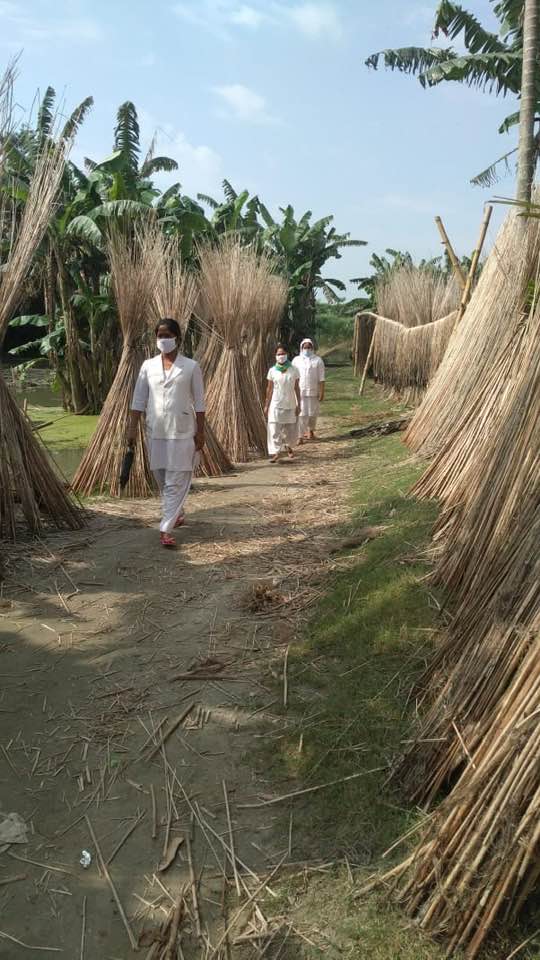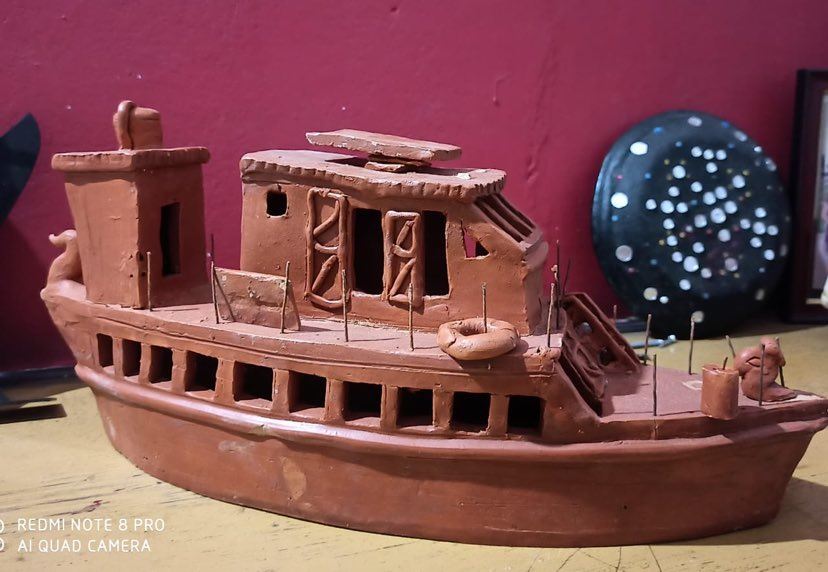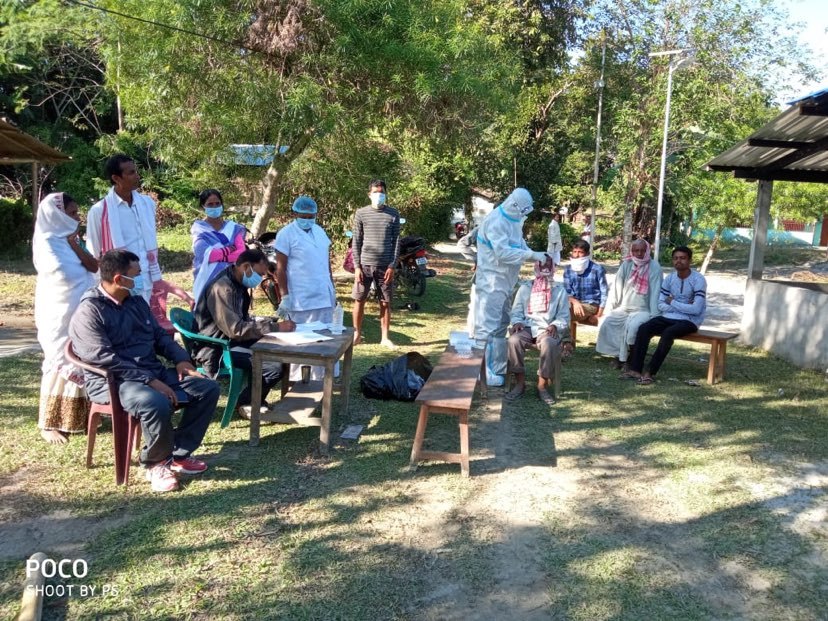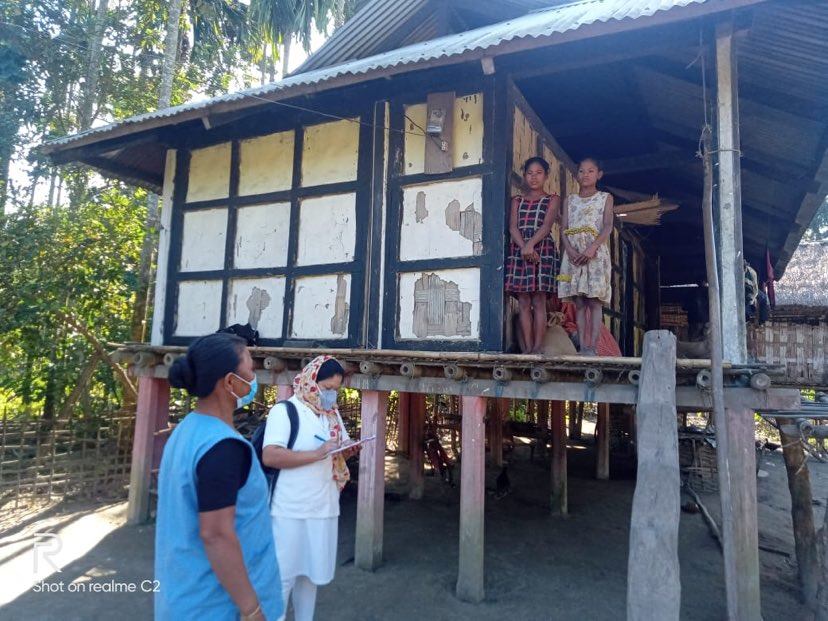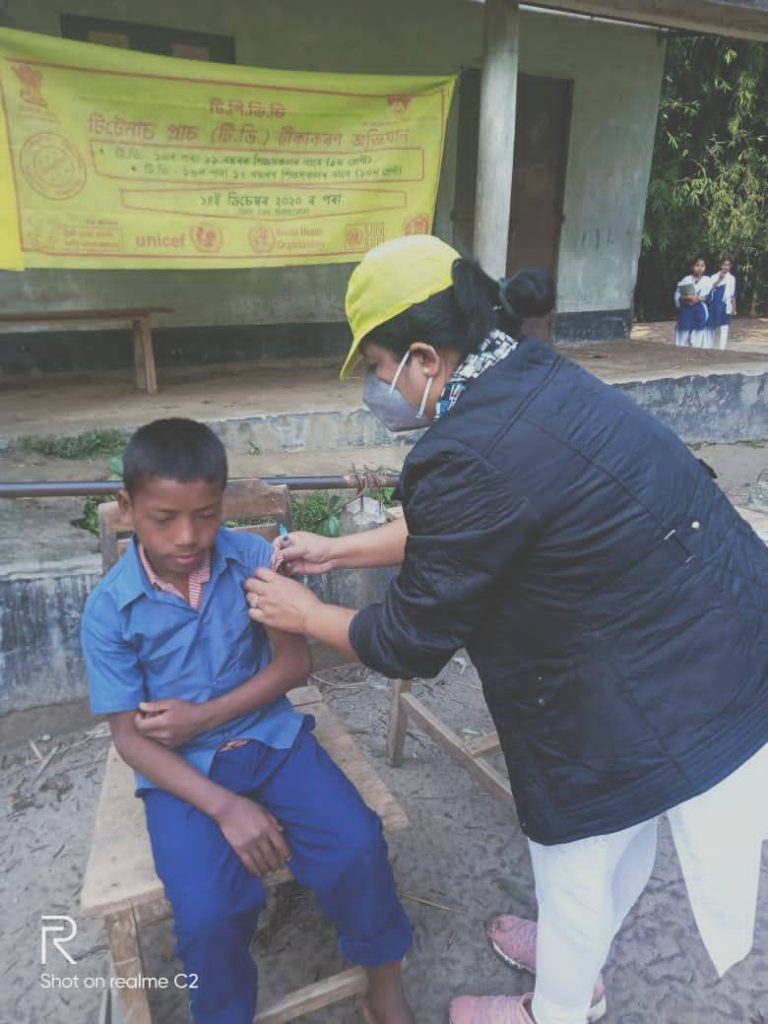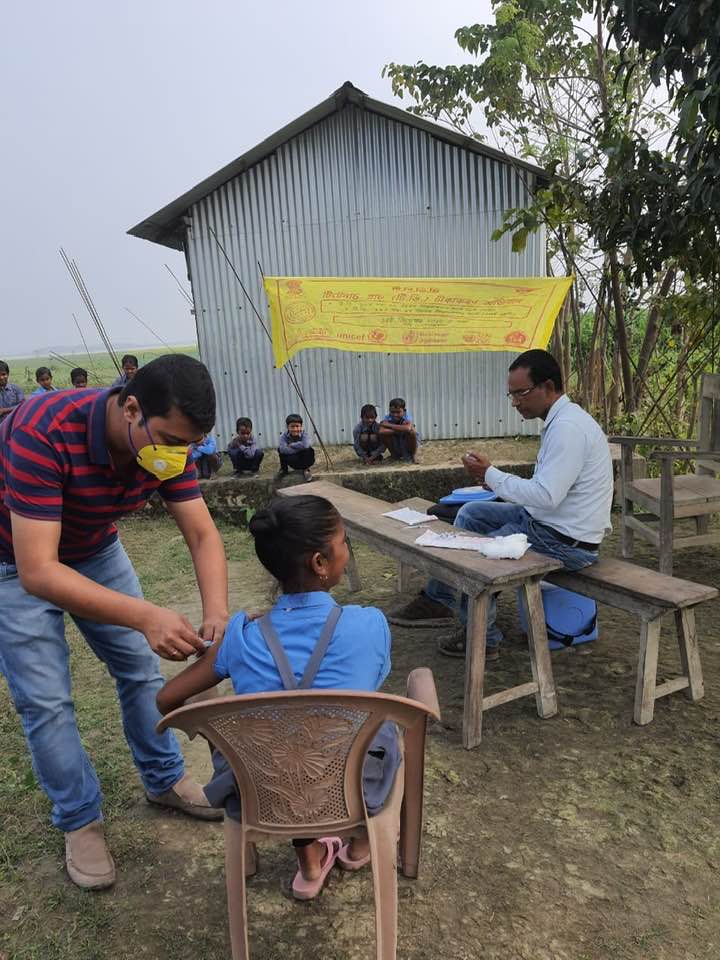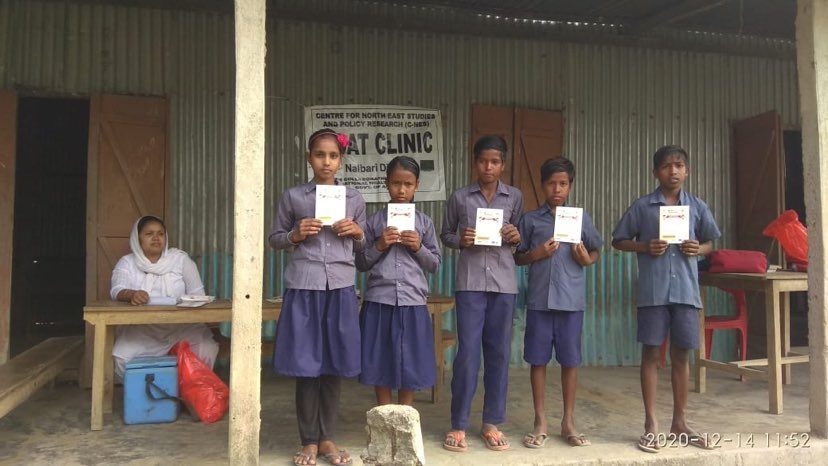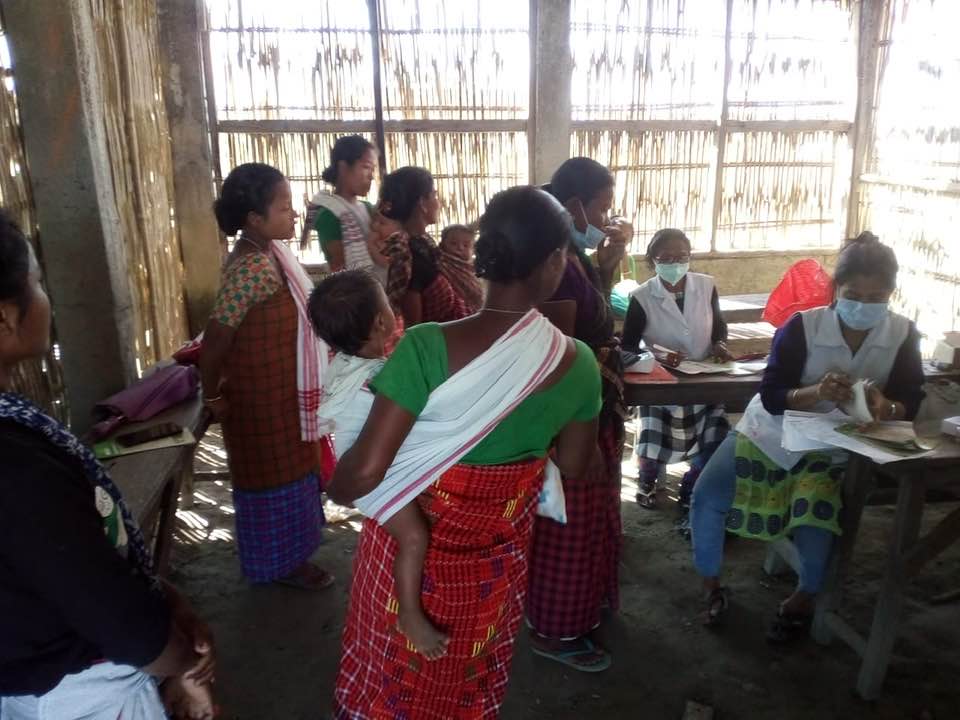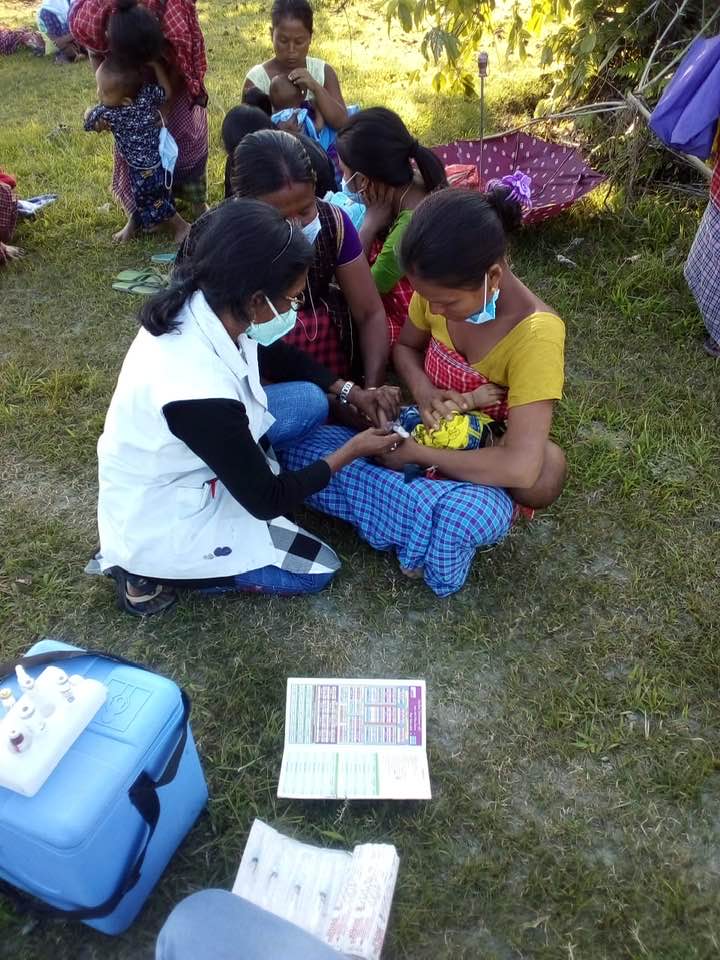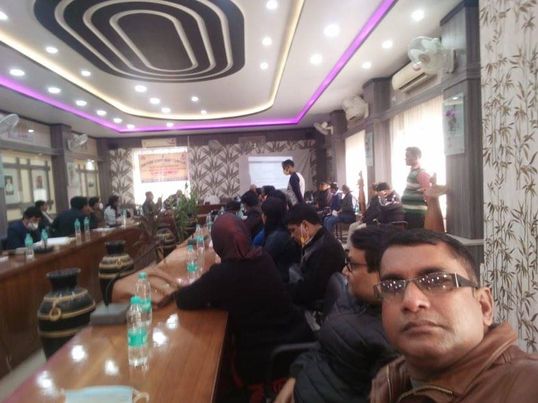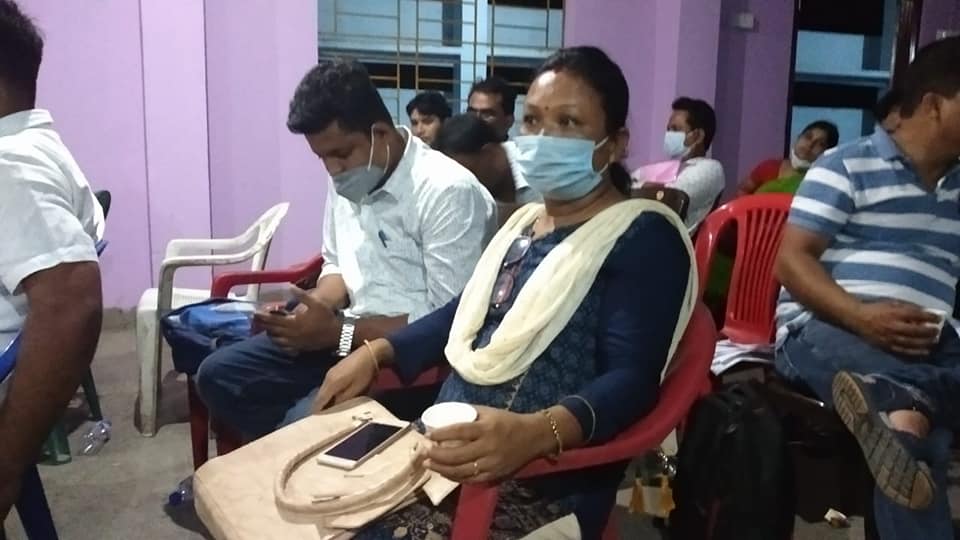 Radio Brahmaputra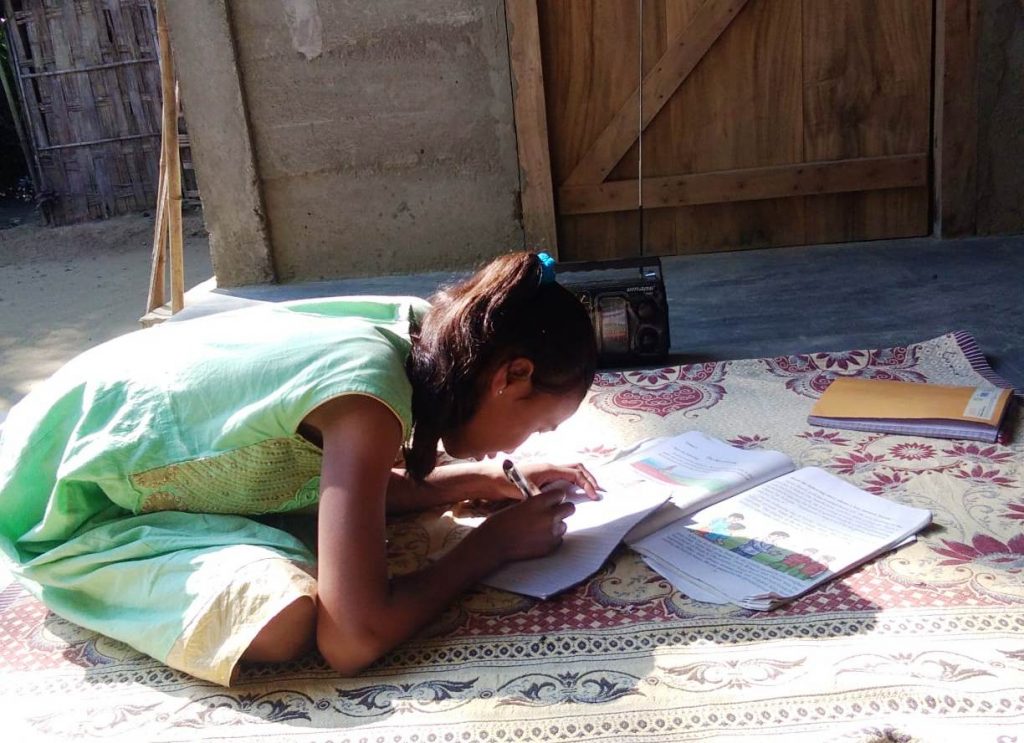 C-NES- SELCO Model village project
C-NES supported by the Bengaluru based Selco Fountation adopted 3 river island villages to be developed as model villages. Kartick sapori, Mekahi sapori and Salmora were the selected island villages Jorhat, in upper Assams Majuli district. They are all remote, cut off from mainland with poor means of communication, predominantly inhabited by the Mising tribe. The major focus was to develop livelihood options through solar power. The model village project include livelihoods, health, education, basic energy access together so that the impact is larger than the sum of singular interventions and will create a huge impact in the community. People will aware about the profit of renewable energy, there would be increasing income with sustainable livelihood. There would be improved communication and networking system through electronic device in remote targeted areas. There would be a positive impact in society.
A solar powered xerox and printing centre was installed at Kartik and Mekhai sapori. 20 solar street lights were fixed at Kartik and Mekhai sapori and elephant repellers were installed as man- elephant conflict is a big concern here, effecting the inhabitants main livelihood, agriculture, here. Solar fencing in the border area of village and forest will secure agriculture and people too Dairy products are made in these islands and a kind of cottage cheese (Khoya) making machine installed. The Anganwadi center at Kartik sapori will be converted to a smart centre using solar power to digitalize it to help children of the island village in their higher education. The solar powered boat for Kartick sapori will enable people to use it even at night in case of an emergency. It will help people getting medical service at all times. Salmora island village is the oldest inhabited in Majuli. The entire village is dependent on pottery, boat building along with basic wood craft including furniture making. Pottery and boat building has been practiced here since the Ahom times. Every household is engaged in pottery for livelihood. But the culture is facing challenges due to a soil crisis and production has been low with the Brahmaputra Board giving a circular to stop soil digging from the riverine areas to safeguard people from erosion. The solar powered ball bearing machine would go a long way in providing solution for soil producing. Solar pottery wheel will also increase production. Concerns like poverty, migration, child labour, child trafficking and marriage is expected to be reduced by involving the community in pottery.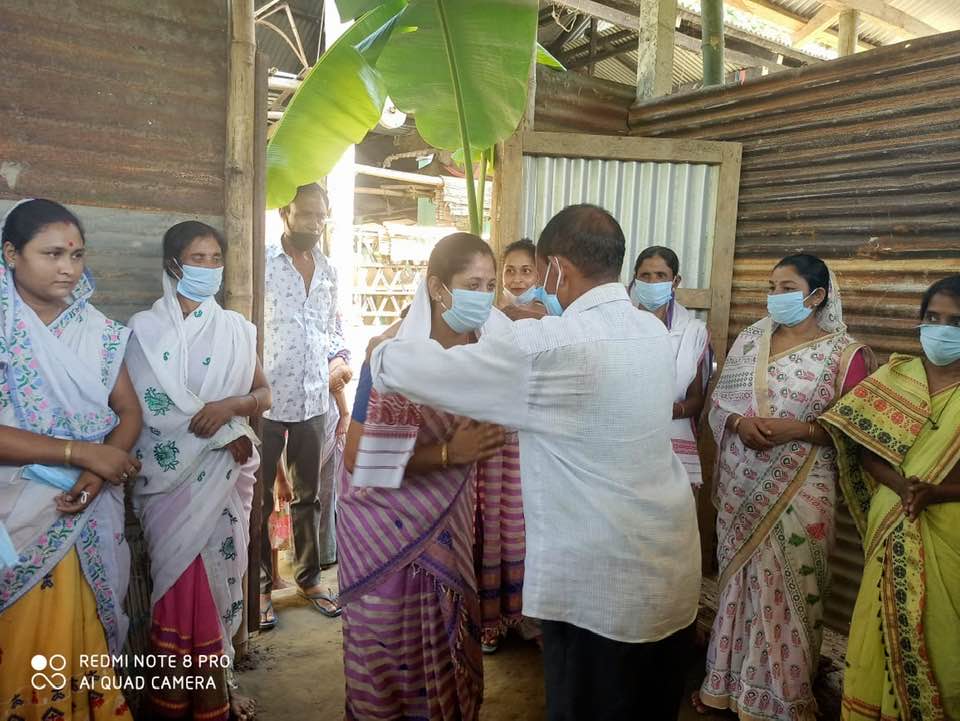 ---
Send your feedback to: co.pmu@c-nes.org