C-NES and the Bengaluru-based SELCO Foundation worked together on a Model Village Programme (MVP) from 15th October 2019 to 31 st March 2021. The three selected remote villages – all located under Majuli district in upper Assam – were Kartik Sapori, Mekahi Sapori and Salmora. The technical partner for the project was ERES Pvt Ltd. In the meetings held prior to starting the project, the communities were informed and explained about the MVP concept. Villagers expressed their happiness and assured full cooperation in successful implementation of the project. Amongst the objectives and targets of the MVP were –Setting up two Smart Anganwadi Centres (AWC) at Kartik and Mekahi Saporis.
Setting up of Lok Sewa Kendra (LSK) for Kartik and Mekahi Sapori villages.
Two existing local mechanised boats of Kartik and Mekahi sapori to be upgraded with solar powered lighting systems. This would help villagers to travel on the boat during any emergency at night.
Transformation of nearest State Dispensary from Ownamukh to 4KW Solar Powered Model Dispensary.
Installation of 10 solar street lights each (15 watts) at Kartik Sapori and Mekahi Sapori villages.
Service camp to repair the non-functional existing Solar home Lights at Kartik and Mekahi Sapori.
Solar powered Pottery wheel, blunger and pugmil to be installed at Salmora village and transforming the village into a Model Pottery Village.
Bands and curfews were imposed in Assam because CAA-related protests led to work coming to a standstill. This continued until the end of December 2019 and technical teams were not able to visit the sites affecting the progress of field work.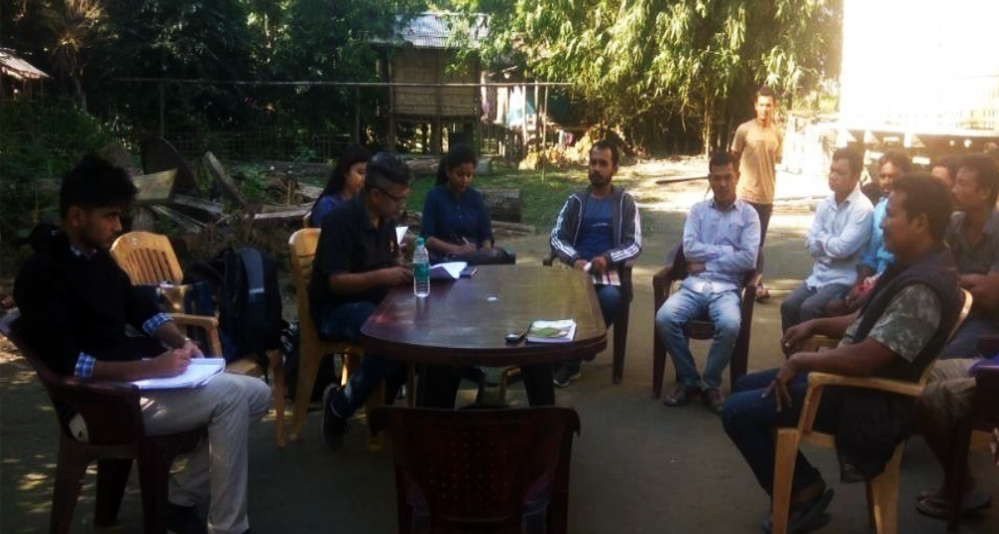 The first target was to set up service camps for fixing and repairing the existing solar lights at Kartik and Mekahi saporis. Existing solar home lights were checked and repaired, servicing 175 in all, of which 78 systems were repaired and made functional. Subsequently discussions and work to establish the Smart AWC in Kartik and Mekahi sapori were started and the sites visited and assessed. Discussion with the Joint Director of Health Services of Jorhat to establish the Model State Dispensary was initiated. Discussions and planning for setting up the Lok Sewa Kendra and for installing Solar Sewing machines at Kartik Sapori and Mekahi Sapori also started. Finally, the site to set up a solar pottery machine for demonstration at Salmora village was finalised.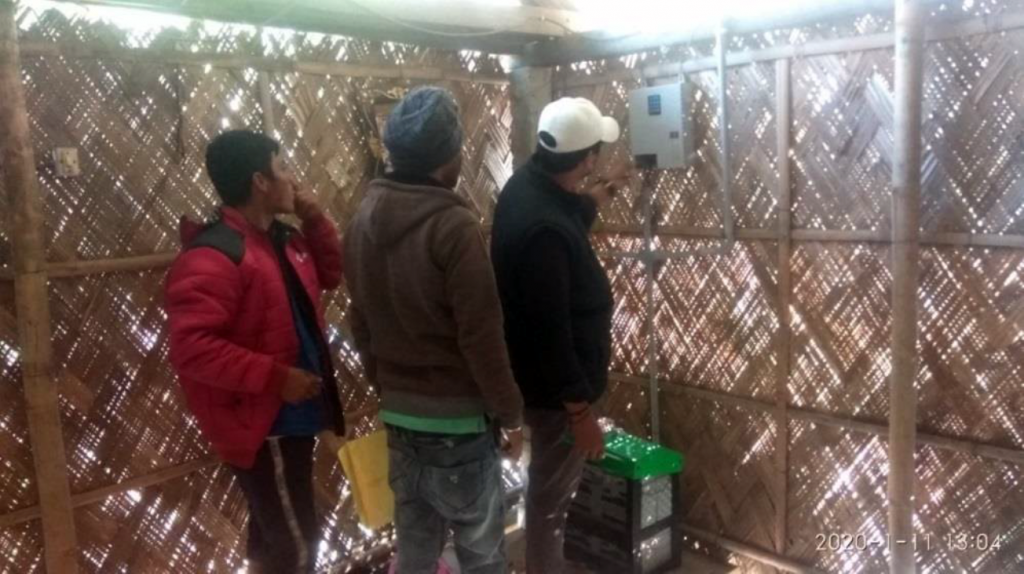 Later in the year, Deputy Commissioner of Majuli suggested and approved the setting up of only one smart Anganwadi Centre in Kartik Sapori and utilised resources for two on one to make it permanent and good so that children in the village could benefit. In March 2020, a meeting was held at the Ownamukh State Dispensary, nearest to Kartik and Mekahi sapori, between health staff of the SD and members of C-NES and ERES Pvt Ltd. Assessment and discussion was also done on a few local mechanised boats of Kartik and Mekahi sapori for installation of solar energy lighting system.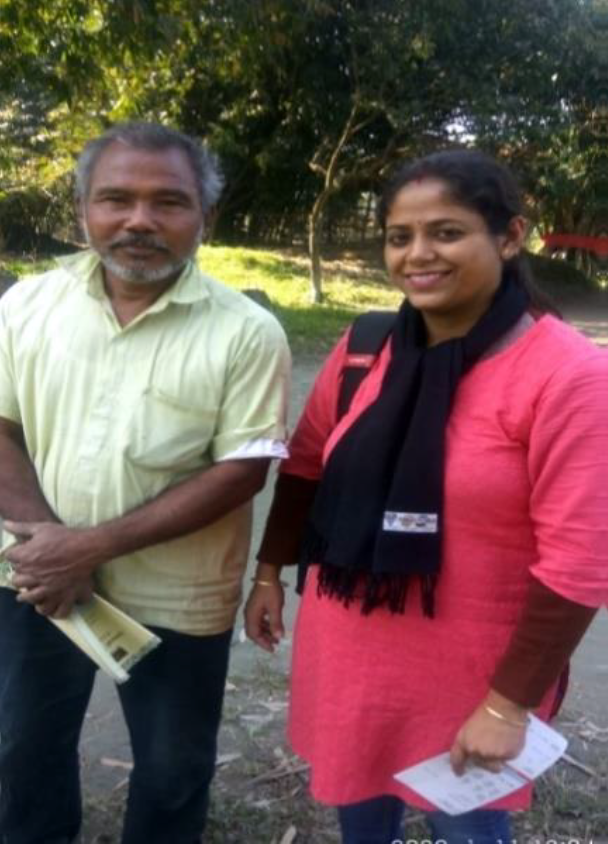 A meeting was organised in Salmora village for the installation of the pottery wheel during a meeting with Padmashree Jadav Payeng Forest Man of India. He has developed a forest in Mekahi sapori singlehandedly known as "Mulai Kathoni Bari'.
He was informed about the Model Village Project. He was happy to learn about the initiative by SELCO Foundation and C-NES and extended his support for the same..
SITUATION IN THE ISLAND VILLAGES (March 2020 to August 2020) DURING LOCKDOWN
The pandemic created fear among the river island villagers of Majuli area. It was difficult for people to be confined to their homes and the village with the nationwide lockdown. Livelihood, Communication, Education, Health was hit.
In Kartik and Mekahi sapori, nearly everyone is dependent on agriculture, dairy products, horticulture and animal husbandry. The production of vegetables is very good in these areas as the land is fertile. Most of the vegetables are supplied to markets in Jorhat and neighbouring towns from these island villages. The pandemic brought financial hardship to the inhabitants as they were not able to sell their produce in the local markets and traders/middle men from the towns also could not come to the village to buy the vegetable and other products directly.
About 40 % of vegetables were damaged and had to be fed to livestock. The food crisis was seen among families of daily wage labourers who could not go out and find jobs. There are two separate Ghats (river bank station) to reach Kartik and Mekahi sapori by local mechanised boat. Using boats, villagers come to Jorhat town for essential commodities, higher studies and for medical treatment. Boat services were shut down due to the pandemic and people were not able to visit Jorhat for specialist medical consultation and treatment. The people of Kartik and Mekahi could only visit the 'Ownamukh State Dispensary' which is around 4/5 kms.
There are two LP Schools, 2 Anganwadi centres and one ME School. For higher studies, students travel to Baligaon in Jorhat. It is well understood that the education system has been totally affected due to lockdown. After closure of all education institutes, children in urban areas were taking benefit from online classes. But here in the islands, digital set up with android smart phones has not reached the hands of children as most parents cannot afford. For this reason most children from the islands were lacking in education compared to children in urban and other regions.
SALMORA VILLAGE DURING LOCKDOWN
Salmora village in Upper Majuli is the third village under Model Village Programme and is situated in upper Majuli. It is a riverine village and has a direct road connection with Majuli district headquarters. Salmora is also connected by waterways with Jorhat district in the south. The village has a population of 634 persons in 152 households.
They are some of the oldest inhabitants of Majuli. After closure of ferry service due to the lockdown, people from Salmora village faced much difficulty as businesses were completely stopped.
IMPACT ON HEALTH & EDUCATION IN SALMORA
People from this riverine village have to go to the 'Dakhinpaat State Dispensary" and "Bongaon State Dispensary" for health issues. Serious patients are referred to Kamalabari PHC 22 km away, Garmur CHC 35 km in Majuli and Jorhat Medical College Hospital (JMCH) in Jorhat. It is easier to reach JMCH crossing mighty Brahmaputra than to reach Kamalabari and Garmur. But during lockdowns and flood situations, people are unable to visit Jorhat because of ferry services. Patients managed by going to the nearest State Dispensary, CHC, PHC using road connectivity.
Salmora village has two LP Schools having 83 children, one ME School having 70 children, one High School having 100 children, and 5 AW Centre having80 children. To avail higher studies, children go to Meragarh, Raonapar, Kamalabariin Majuli. The academic environment is not good but school authorities are trying their best to deliver online classes. The ME School of Salmora was converted into a quarantine centre. Another challenge for the villagers is the annual floods which affects Salmora residents almost every year.
LIVELIHOOD: Livelihood activities and avenues were literally closed in Salmora during the lockdown. The whole village is dependent on producing pottery items, boat building, furniture making, and daily wage. Pottery and Boat building have been famous activities since Ahom Kingdom. Almost every household is engaged with pottery for their livelihood. But this pottery culture is facing big challenges due to the present pandemic situation. Around ten Lakh pottery items are stored in the village because it is not possible for the villager to leave the village for business purposes. There is very little agricultural activity on a commercial basis as annual floods and erosion hampers agricultural crops.
SEPTEMBER 2020 – Resumption of Activities: All installation works under Model Village Programme which were pending since March 2020 due to the pandemic, lockdown and four spells of flood waters, resumed with full force after normalcy slowly returned. During the month of September 2020, items for the 3 villages were transported to Jorhat by road and then by boats to all the different sites in the three villages. Technical people from ERES along with programme field staff and volunteers from these villages successfully installed and commissioned all the items as per the plan.
Conclusion:
The Model Village Programme has benefited and influenced the three communities where it has been implemented. The villagers are very happy and optimistic that the project will bring a change in community behaviour and will develop the village. Lok Sewa Kendra will help villagers, especially students, in gathering information and accomplishing computer work. LSK will also provide people with the opportunity to fulfil a number of online work and other online requirements from the village itself. The street light in the village is providing the women and children a safe environment even after sunset. Solar-lit boats have become a lifeline for villagers in times of medical emergency. The much-needed confidence of travelling during night hours on the river, especially for patients and pregnant women, is now available. There has been a remarkable reduction in agricultural crop damage from wild elephants invading their agricultural land after the installation of the Elephant repellent. Solar sewing machines have provided few women entrepreneurs the opportunity to increase their income by producing more items in lesser amount of time. Salmora village women who had traditionally been producing pottery items for ages without using a wheel have now been trained to use the solar powered pottery wheel and increase their production. The women who attended the training have also been taught to design and develop other items which have demand in the market in the state and outside the state. The newly constructed Anganwadi Centre into a Smart Anganwadi Centre will motivate and benefit the children of Kartik Village. Smart AWC will have digital learning tools resulting in more interactive learning and improved retention of children. It will also be a model for replication by the Social Welfare Department of the state government in the future. The Model Village Programme will definitely provide a good environment and opportunity for all round development of rural communities. It will motivate young people to adopt renewable energy for better opportunities and healthier future for generations to come.
C-NES is thankful to the SELCO Foundation for giving us the space to work in collaboration and in partnership, looking beyond the normal activities of providing services in healthcare and be involved in developmental programmes through renewable clean energy to communities who are located in remote areas. We are confident that in the near future the MVP will be a model which will attract the concerned government departments for adoption under the village development plan.