By the Brahmaputra:Vol 47
By the Brahmaputra (Vol: 47)
C-NES Newsletter
(For the Quarter July – September 2019)
As floods ravage the northeast Indian state of Assam once again, this is how the Boat Clinic teams work, every year, every monsoon. Facing an angry river,the flood fury, wading through knee high water, walking for miles and reaching out to the flood vulnerable and needy. Bringing hope and healing to the Brahmaputra river islands.
A tribute to the teams and to their dedicated service. The 15 Boat Clinic teams from Tinsukia in upper Assam to Dhubri, bordering Bangladesh. A 2019 floods photo story from the Boat Clinic units.
On AIR – A discussion on the Boat Clinics
C-NES' Technical Consultant Dr CR Hira and Communications Officer Bhaswati Goswami at a Radio Talk on the Boat Clinics at AIR Gauhati on 9th September 2019.The talk moderated by AIRs Sanjeev Goswami was broadcast on 12th September, 2019.
---
Boat Clinics on Livemint
Journalist Avantika Bhuyan covered a flood story from the Boat Clinics on livemint, the online portal of Mint, one of the fastest growing news website in India. The link and the story follows:https://www.livemint.com/mint-lounge/features/ferrying-hope-on-the-brahmaputra-1564137596324.html
The floods this year, however, seem to have surpassed the ferocity of the previous years as well, and have been touted as the worst ever in 15 years.
And some of the worst scenes of devastation seem to be playing out on the vast network of sandbars and islands peppered across the 891km-long course of the river in Assam. Considered as unique geographical phenomenon, these chars and saporis get completely submerged during the floods, turning the lives of the 3 million people inhabiting these islands upside down. During the monsoon season, the river washes away their homes and livestock at least two to three times. In such a scenario, the only way to get relief materials to them is by boat. And for the past 15 years, an innovative set of boat clinics has been doing just that.
Started by a trust called Centre for North East Studies and Policy Research, or C-NES, in 2004, these floating clinics have attempted to bring basic healthcare closer to residents of these saporis, which often don't even have a proper road running through them. As I meet Sanjoy Hazarika, Managing Trustee and founder of C-NES which run the boat clinics, in Delhi, he shows me images sent by the various boat clinic teams across the state of the current flood situation—of people hanging on to rafts and of doctors wading through water to reach the villages. I ask him why the decision to focus on the residents of these chars and saporis. "They are among the most economically backward in Assam barely touched by development. They remain marginalized, poor and vulnerable, with no access to communications and are badly hit by recurring floods," he says.
——————————————–
"Last year during the floods, we were engaged in rescue work as well. This year, we are offering medicines and relief supplies," says Hazarika. "But the clinics are at work 24/7, 365 days a year, irrespective of whether it is the pre-flood phase, post-flood, or no flood at all." Today, nearly 18,000 to 19,000 people get treated on these boats every month. And till March 2019, over 2.7 million numbers of basic health services have been provided through 15 of these clinics which are active in 13 districts such as Dibrugarh, Tinsukia, Dhemaji, Lakhimpur Jorhat Barpeta, Sonitpur Morigaon, Kamrup, Nalbari, Bongaigaon, Goalpara and Dhubri. "Every year, we handle not less than 3,40,000 cases of patients needing care and succor" Hazarika adds.
————————-
Over the past 15 years, there have been several stories of relief and rescue during the floods. In August, 2008, as the waters raged around Lamba Sapori—an island home to the Mishing community—in Dhemaji, a couple, Punyadhar and Oiphuli Morang watched on helplessly as their two-year-old daughter, Moina, suffered from an acute asthmatic attack. Having seen the boat clinic pass by the sapori several times in the past years, they had an idea about its schedule. So, Punyadhar stood on top of his house and waved vigorously to the SB Shahnaz, which was plying these waters. The team spotted the couple and made its way to the house, where immediate medication was administered and the child recovered soon after. In the book, Hope Floats: The Boat Clinics Of The Brahmaputra, C-NES' Communications Officer, Bhaswati Goswami quotes 55-year-old Arumoni Regon from Pamua village of Laika Sapori in Tinsukia. "In the situation prior to boat clinics, pregnant women had to cross the river in full spate during floods and trudge through the dense Dibru-Saikhowa reserve forest to access health checkups at Government health centres," she says.
---
It is one such instance that inspired Hazarika to conceptualize the boat clinic idea. "Filmmaker Jahnu Baruah and I were crossing over to Majuli when we heard of a tragic story of a young woman in her teens having died on the ferry due to childbirth. She had missed the ferry the previous day and was forced to spend the night in the open, next to the river. And she died during the crossing," he says. Troubled by the story, he started discussions with local panchayat leaders about the idea of bringing healthcare to them by boat. In the same year (2004), C-NES won the World Bank's India Marketplace competition for the innovative concept of "A Ship of Hope in a Valley of Floods", and the ensuing prize money of $20,000 (about ₹13.7 lakh) led to the construction of the first boat clinic. Titled Akha, which means hope in Assamese, it was built with local raw materials with the help of boat builder Kamal Gurung. Crafted from wood, it was 56ft in length and equipped with an OPD, lab, cabins, toilets, water supply and generator. These 15 clinics offer curative care, early detection of tuberculosis, leprosy and other locally endemic communicable and non-communicable diseases, reproductive and child care, family planning services, basic lab services and awareness building sessions.
---
"For people in some of these saporis, it often takes 8-10 hours to reach a hospital. Yahaan hospital hota tho bohot accha hota. But that's where the boat clinics help fill the gap," says Urmila Yadav, a 45-year-old Accredited Social Health Activist, or an ASHA worker in the Charkholiya ward No.1 of Dibrugarh district. She acts as a liaison between the residents and the clinics, passing on information about the date of the clinic's arrival, imminent checkups and emergencies.
---
26-year-old Dr Tafikul Islam, who has been working on the boat clinic for over nine months, has been counselling people on emergency measures to take during the floods. "We know that every year the floods will occur. So, we give a stock of medicines for viral fever, diarrhoea and gastroenteritis to the local ASHA workers to use during the floods," he says.
——————————–
The 250-strong team comprises of two doctors per boat. Some like Islam, a graduate from the Assam Medical College, Dibrugarh, do a stint on the boat to garner experience in the rural parts of the state. "We also have doctors who have retired from government service. On each boat, we have one or two auxiliary nurses, a lab assistant and pharmacist. The programme management team sits in Guwahati, and we have coordinators in each district called the district programme officer—out of these at least five are women," says Hazarika. Their salaries and repairs of the boat are supported by the National Health Mission, with which the C-NES entered into a public private partnership in 2008.
———————————-
It has been a challenge to convince people in these areas to shift to modern healthcare methods. According to Arup Kumar Saikia, district programme officer, Dibrugarh boat clinic, education rate in the chars is abysmal and people still believe in rituals to cure an illness. "It took us three years to get people to understand the significance of modern medicine," he says.
---
The teams are now gearing up to tackle the post-flood challenges. 31-year-old Nasima, an auxiliary nurse staff on the Barpeta boat unit, says, "Floods ke baad, bohot gandagi ho jaati hai. It stinks everywhere," she says. Hence, the team gives out phenyl and bleaching powders, besides medicines, as well.
During non-flood times, often the team has to walk for hours altogether or ride a horse cart or tractor to reach the village. "This year has seen a long enduring wave of floods. We make sure all boats are in good condition and carry life jackets. Brahmaputra is not a river to be trifled with. It not only changes it course but also its speed rapidly. The teams do their work at great risk and with a great sense of commitment," says Hazarika.
---
Researchers on board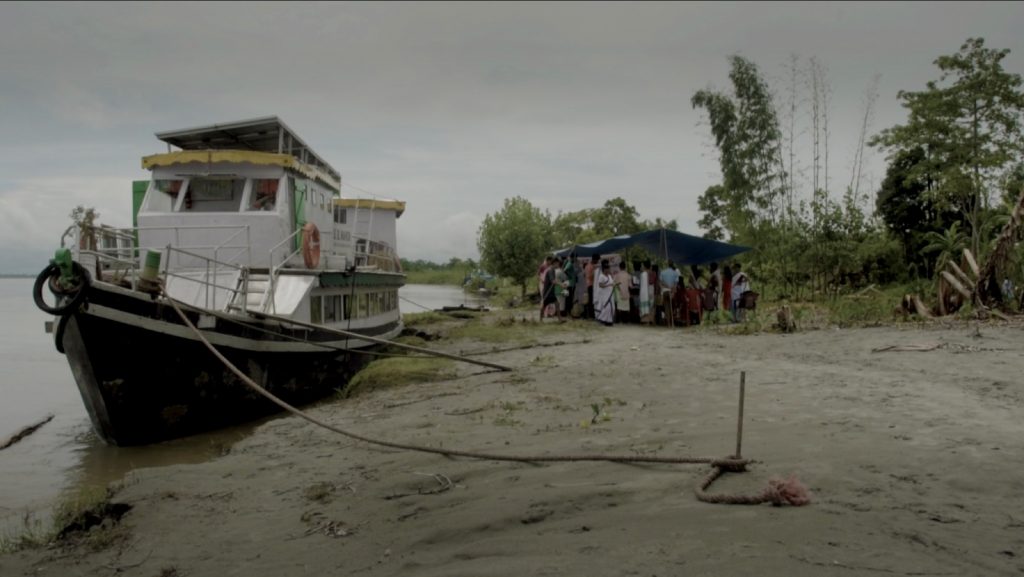 Researchers Vandana Mohan and Debashish Nandi visited the boat Clinics at Sonitpur and Jorhat in September 2019. The duo have been collaborating for the past two years on various documentary projects as film makers at the Srishti Institute of Art, Design & Technology. The films looked at alternative paradigms that challenge current notions of development and progress. Currently they are doing research for a film on the Brahmaputra. Debashish Nandi has been working with the boatmen in Tezpur for a few years now, interested in tracing the history of the river through the communities and their stories and how rapidly and alarmingly things are changing in Assam with regards to the river and the people that live by and depend on it. At Jorhat they tried to understand the historical significance of the various waterways that made Jorhat an important trade hub in the 18th century and the current reality along with the boat clinic initiative and the need to use the waterways as a medium of access and transport.
Follows their report :
C-NES BOAT CLINIC- JORHAT/UPPER MAJULI
By Vandana Menon & Debashish Nandi
The boat slowly drifted to set anchor in Upper Majuli on an island called Besamora. The loudspeaker crackled and the clinic's arrival was announced for the people on the island. Simultaneously a makeshift tent, medical supplies, chairs, tables were unloaded off the boat and set up quickly on the river bank.
As film makers researching the Brahmaputra, we were really keen on spending time on one of the Boat Clinics run by C-NES. We landed in Jorhat on 11th September 2019 and were invited to join the crew on the Jorhat Boat Clinic on 12th September 2019 for a day long camp visit in Upper Majuli.
We reached Nimati Ghat after a few adventures on a rainy morning. The Brahmaputra stretched out behind the boat clinic. We were invited on board by Riturekha holding an umbrella and once we'd settled into the lower quarters of the deck, we were introduced to the rest of the crew. After the initial introductions were done we sat down to try and explain why we had come and also to try and understand how the clinic works.
Our main interest in the boat clinic was due to the fact that it uses the river as a means of transport to access islands that are inaccessible by road. We were given a crash course in the various medical interventions conducted by the crew from dental care to immunisation to basic health care.Once the rain stopped, we went to the upper deck and were introduced to the master boatman Gunjan Da. We learnt that he is from Kamalabari and has spent his whole life on this river. For us, the river stayed the same and we could only try and gauge the scale of it in terms of its width. But Gunjan Da knew the depths of this river as well and navigated based on knowledge systems that are a little alien to a person from an urban landscape.
Initially people came down to the clinic from different directions in ones and twos. Some on foot, some by cycles and some by smaller boats. Soon however, there were close to eighty to ninety people around the doctors and nurses seated behind the tables. We were told that the number was actually low due to the weather and normally they would see a minimum of a hundred and twenty or so patients. There seemed to us, a real sense of camaraderie between the crew and the people they were treating. Apart from the science of medicine, they all seemed to want to catch up and share news of what was going on in their lives with the boat crew. We were also given a warm welcome perhaps due to this very connection and people answered our questions patiently, They also took us around the village and introduced us to different people who they thought would be able to answer our questions about communities, livelihoods, health care etc.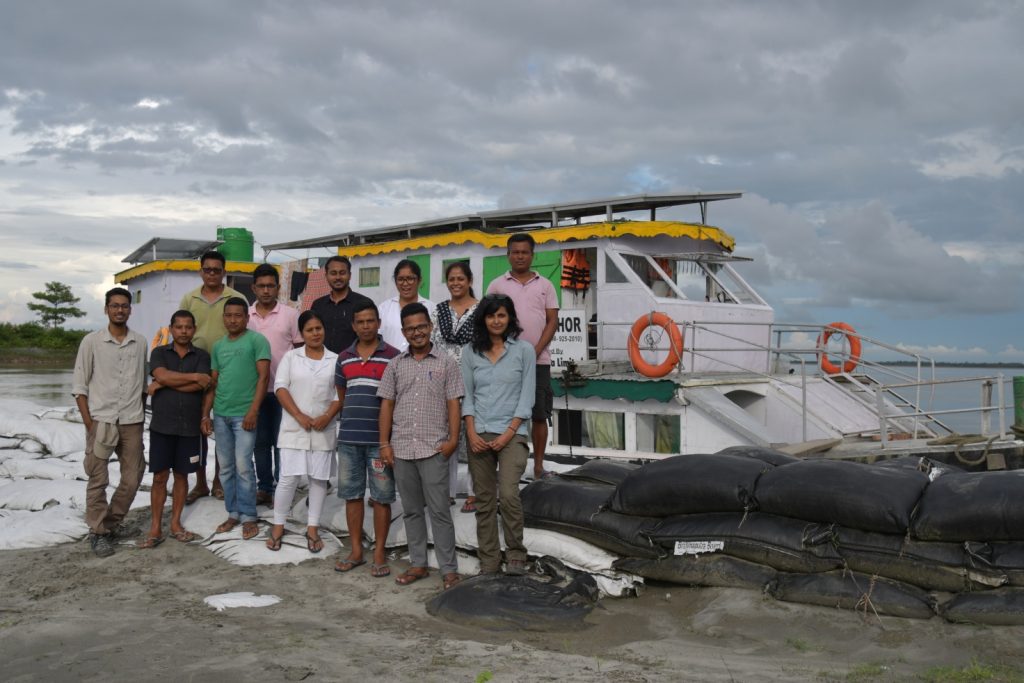 As we returned to Nimati Ghat that evening we couldn't help but feel that it was a day well spent with many learnings and an insight into the workings of the boat clinic and the communities by the Brahmaputra. It left us with the realisation that we'd like to come back and spend more time with the camp since we'd barely scratched the surface in one day.
---
Workshop on Gender and POSH issues
Participants and resource persons at the gender issues sensitization workshop
C-NES is committed to providing a safe environment for all its employees free from discrimination on any ground and from harassment at work including sexual harassment. The organization recognizes that equality in employment can be seriously impaired when women are subjected to gender specific violence, like sexual harassment at the workplace.
Sexual harassment of women at the workplace (SHWWP) is a global concern. Survivors of sexual harassment (SH) face various challenges to their health and career. It is only in recent times that sexual harassment of women at the workplace has begun to receive the serious attention it deserves. In India, SHWWP was not recognised as a public issue until the infamous Nirbhaya Incident. It was only in April 2013 that the Sexual Harassment of Women at Workplace (Prevention, Prohibition and Redressal) Act was passed. Recognising SHWWP as a serious offence, the Act is a comprehensive civil law that focuses on its prevention, prohibition and redress. It has laid down various provisions for employers and employees that are mandatory for all workplaces. Under the Act, all workplaces are mandated to set up Local Complaints Committees (now known as Local Committees) or Internal Committees with effect from May 2016, to assist all aggrieved women in the workspace.
C-NES' Internal Committee was accordingly set up in August 2019 with Bhaswati Goswami as chair, Swapna Das, Ashok Rao and Bedanta Sarma as members and Nikita Baruah, advocate, Gauhati High Court as external member.
A sensitization workshop on POSH (Prevention of Sexual Harassment) issues was conducted at Guwahati's Ginger Hotel on 23rd September 2019. Anurita Pathak Hazarika, State Director and Nilanju Dutta, Project Director, North East Network, a Women's Rights organisation, conducted the session as resource persons. DPOs from all 15 Boat Clinic units along with the Coordinator of Radio Brahmaputra and staff from regional office participated in the workshop. Dr Milan Barooah, member, C-NES Advisory Council and Dr CR Hira, Technical Advisor,C-NES were also present.
---
Multi-Stakeholder Development Conclave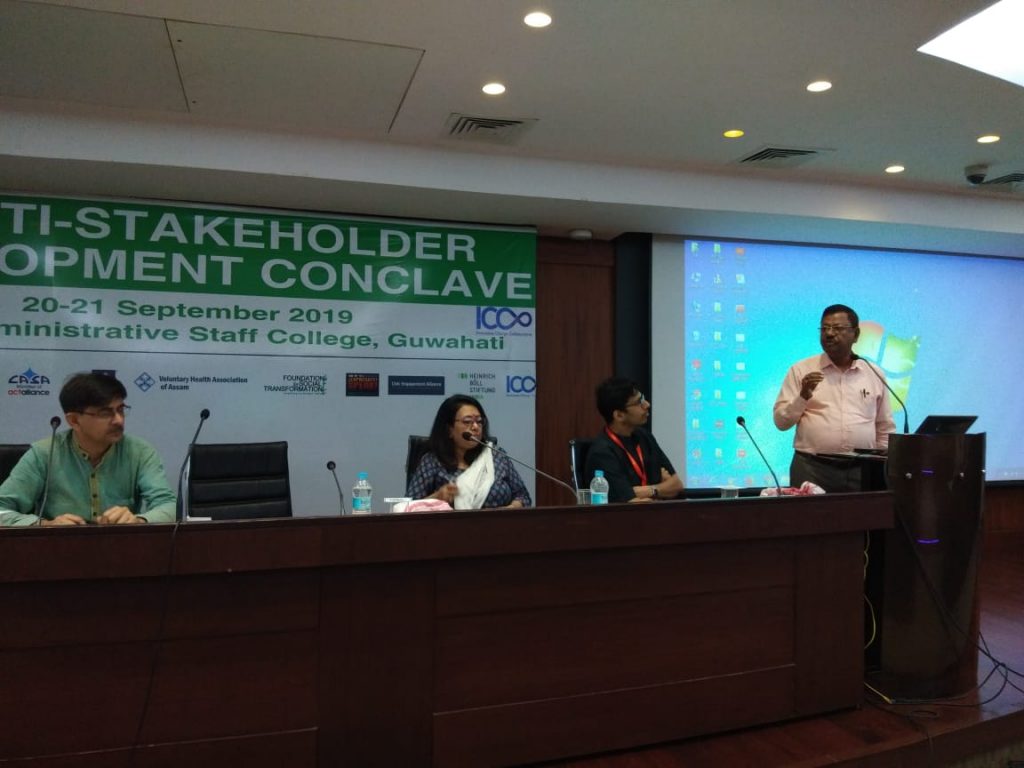 Dr C R Hira, Technical Consultant and Ashok Rao, Programme Manager participated at the recently held Multi-Stakeholder Development Conclave from 20th-21st September 2019 in Assam Administrative Staff College, Jawahar Nagar,Guwahati. The focus of the conversation was to understand the development priorities of Assam and other states of North-East and solicit the commitment, partnership and cooperation of voluntary organizations and corporate sector. The conclave was organized by VANI, CEA, HBS, The Ant/ IDeA, NERSWN and NEN. It was attended by government officials and representatives from the corporate sector of Assam state and North East Region.
---
SDG workshop
Communications Officer Bhaswati Goswami participated at the Assam State Round Table Meet on UN SDG Goal (5) on Gender Equality as Panel Speaker on "Addressing gender equality in Assam and improving gender equality score(Goal 5) of Niti Ayog SDG India" on September 26, 2019. The multi-stakeholder round table meet was organized by Digital Empowerment Foundation, North East Development Foundation, Assam Civil Society Network for SDGs (ACT4SDGs), in collaboration with National Foundation for India and supported by Institute of Bio-Resources & Sustainable Development, DST, Govt. of India and UNDP. She spoke on gender equality pertaining Assam including women's access to reproductive and sexual health services and reproductive rights in the marginalised Brahmaputra river island villages.
Dr Monica Banerjee, Director of National Foundation of India, moderated the session. The participants included among others, Lakhimi Baruah,founder of the Kanaklata Mahila Urban Cooperative Bank at Jorhat,the first and only all women co-operative bank in Assam, Chikimiki Talukdar,Chairperson, Assam State Commission for Women, Dr Polly Vauquline,Head of the Dept of Women Studies, Gauhati University, Dr Saswati Choudhury, Asso.Professor, OKD Institute of Social Change &Development, Guwahati and Nilanju Dutta, Project Director, Northeast Network.
---
Mr Chaman Lal visits C-NES office
Members of C-NES' Programme Management Unit (From left- Manik Boruah, Ashok Rao, Bhaswati Goswami and Dr CR Hira) with former Trustee Mr Chaman Lal at the regional office on 25th September 2019. Mr Lal, an IPS officer from the Madya Pradesh cadre has served on deputation BSF, ITBP, SPG besides his home cadre. He was also a former DGP of Nagaland. Post retirement, he has been working with the National Human Rights Commission and working to help people in mental institutions. Honoured with the 6th Nani Palkhivala Civil Liberties Award in 2011, he has also been working with the Swami Vivekananda Youth Movement, concerned about social causes and solutions.
---
Sonitpur District Official conducts camp
The Joint Director Health,Sonitpur,Dr Krishnai Kemprai has been ever supportive of the district Boat Clinic services. She accompanied the health team for a camp on 12th October 2019, despite it being a holiday and attended to 69 patients without any support. "She visits our health camps often. Her presence creates a positive vibe. The team is encouraged to perform better. She is so unassuming and prefers to sit where we do" adds Mousumi Dowerah, the DPO,Sonitpur Boat Clinic.
---
World Breastfeeding Week: A report from Jorhat
WBW is celebrated every year in August in more than 170 countries to encourage breastfeeding and improve the health of babies around the world. As per the WHO recommendation, colostrum, the first secretion from the mammary glands after giving birth, rich in antibodies is the perfect food for the new-born. Breastfeeding should start within an hour after birth and exclusive breastfeeding is recommended up to 6 months of age, with continued breastfeeding along with appropriate supplementary food up to two years of age or beyond.
According to the recent National Family Health Survey (NFHS)-4 that was released last year, 41.6% children under 3 years of age were breastfed within one hour of birth in 2015-16 as compared to 23.4% in 2005-06.
Along with the other Boat Clinic units, to encourage breastfeeding and improve the health of new-born, World Breastfeeding Week was observed at Jorhat Boat Clinic. The awareness programmes were organized supported by ASHA workers, community workers, ANMs and Medical Officers in the presence of new mothers and villagers. ANMs Rimpi Bordoloi, Juli Phukon and Pranjali Thakuria highlighted the benefit of breast feeding for baby and mother.Awareness camps were organised at Bhakat sapori,New Samoguri, Salmora, Kamjan, Besamora, Afalamoukh, Baruachuk, Kachikata, Kerker, Kankur, Gopalchuk, Missamora, Sengellisuti, Huttar, Sesuguri, Kathsaoiri, Balisapori and Ghuria sapori.
---
NDD Awareness Session: Tinsukia
Soil Transmitted Helminths (STH) is a significant public health concern for Assam. Around 68% children of 1-14 years of age are estimated to be at risk of parasitic intestinal worm infestation. As per National Centre for Disease Control (2016) the prevalence of STH in Assam is 50%. Evidence has shown detrimental impact of STH infestation on physical growth-anaemia, under nutrition and cognitive development as well as school attendance. Periodic deworming can reduce the transmission of STH infections. Ministry of Health & Family Welfare, Government of India, in collaboration with Ministry of Women & Child Development, Department of School Education & Literacy (under Ministry of Human Resource Development), Ministry of Drinking Water and Sanitation and Ministry of Panchayati Raj has decided to conduct annual mass deworming day observing National Deworming Day (NDD). From the year 2015, mass deworming is conducted across 27 districts of Assam as a fixed day strategy to reduce the harm caused by STH on millions of children in a cost effective, simple and safe manner.The photographs are from an NDD awareness session at Tinsukia district's remote Amarpur island village on 30th August 2019. District Programme Officer of the Tinsukia Boat Clinic Unit Mitrajyoti Konwar along with his team actively taking part at the session.
---
World Sight Day at Bongaigaon
Celebration of World Sight Day at community level under the initiative of the Bongaigaon Boat Clinic at the districts Number 6 Bahir char. The theme of the programme was "VISION FIRST".DPO Monjur Hussain Mondal seen talking to the community members.
---
POSHAN Abhiyaan Maah in Boat Clinics
POSHAN Abhiyaan (National Nutrition Mission) is India's flagship programme, launched in March 2018 to improve nutritional status of children up to 6 years, adolescent girls, pregnant women and lactating mothers to achieve specific targets for reduction in low birth weight babies, stunting growth, under nutrition and prevalence of anemia over next three years.To ensure a holistic approach, all 36 States/UTs and districts are being covered in a phased manner i.e., 315 districts in 2017-18, 235 districts in 2018- 19 and the remaining districts in 2019-20. More than 10 crore people will be benefitted by this programme.
POSHAN Abhiyaan is not a programme but a Jan Andolan, and Bhagidaari, meaning "People's Movement". This programme incorporates inclusive participation of public representatives of local bodies, government departments of the state, social organizations and the public and private sector at large.
Under Poshan Abhiyan states/UTs need to achieve convergence through the close coordination between the department of women and child welfare; health and family welfare; drinking water and sanitation; rural development; panchayati raj; education; food and other concerned departments.
To give momentum to POSHAN Abhiyan , 'National Council on India's Nutrition Challenges' on 24th July 2018 decided to celebrate the month of September as Rashtriya Poshan Maah. During this month activities related to nutrition awareness will be carried out by all the states/UTs up to the grass root level.
The implementing departments /agencies like women and child development department through anganwari workers, health and family welfare department through ASHA, ANM, primary health centres, community health centres, school education and literary department through schools, panchayati raj department through panchayat, and rural development trough self-help groups will carry out the activities and spread the message during the month. Accordingly in September 2019 all 15 Boat Clinic units have been actively involved in the Rashtriya Poshan Maah.
Photographs from various district units follow:
Awareness on Anemia at Morolia village, Lakhimpur on 24th September, 2019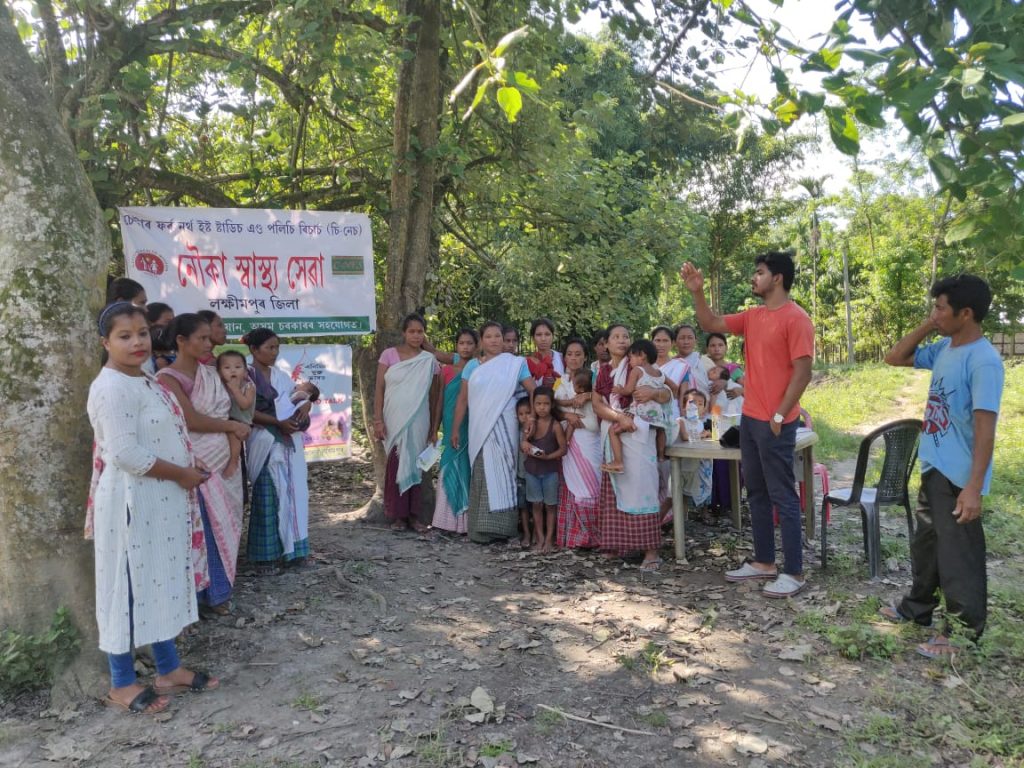 Awareness on Poshan maah and anemia screening camp by Barpeta Boat Clinic Unit II on 19th Sep 2019
Awareness and demonstration by Barpeta Unit II Boat Clinic at Sewrapathar char
Poshan Week awareness on anemia by the Tinsukia Boat Clinic in September 2019
---
Family planning Initiatives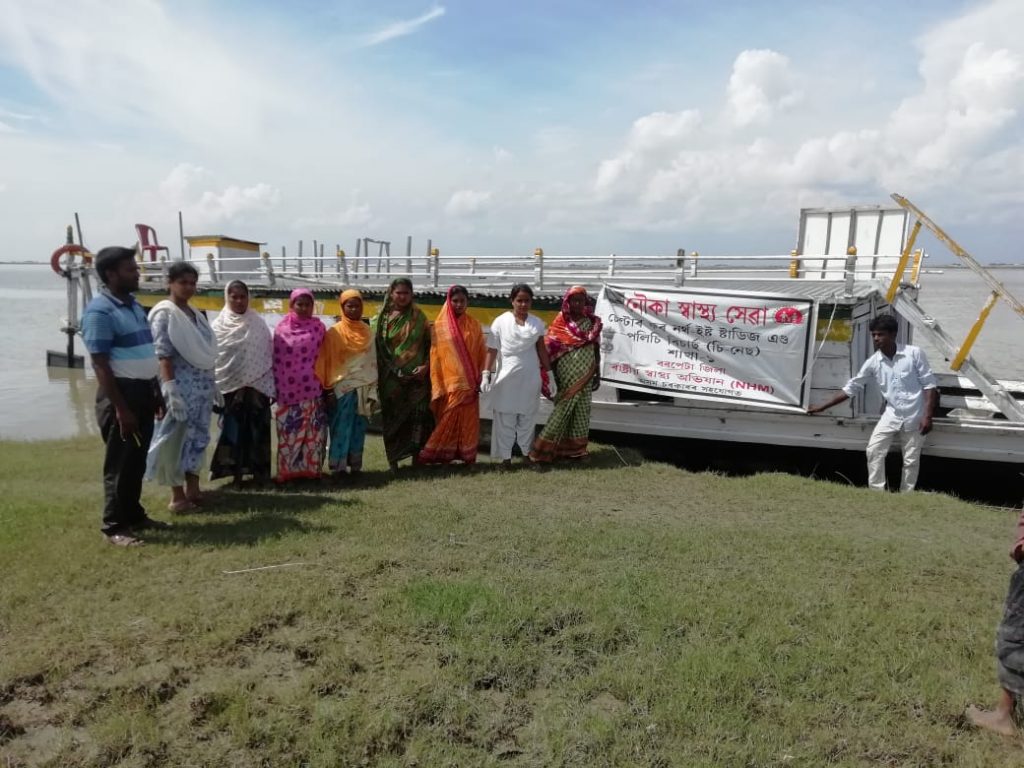 Barpeta Unit I: On September 27th 2019, the Barpeta Boat Clinic Unit I inserted 8 IUCDs to beneficiaries in the Kadagi and Nirola Char
---
Sonitpur
Marajina Khatun, the newly appointed ASHA of Bihaguri block prefers a small family. Most from her community have large unplanned families. She wanted to adopt a permanent FP method after her second delivery but was not able to access the nearest hospital. When she met the Sonitpur Boat Clinic team on May 2019, she was convinced about the advantages of undergoing an Laparoscopic Sterilization. Floods and irregular boat services to her home in Teliagaon ghat prevented her. She finally succeeded in her fourth attempt on 30th September 2019 at KCH Tezpur. She played a dual role- as beneficiary herself and motivator for other women. The laboratory tests were done in the boat clinic lab as it would have been a time consuming process in the civil hospital Her entire journey back and forth from home takes nearly six 6 hours.
---
Multi Tasking and Team Spirit
Overcoming hurdles every day. Sonitpur Boat Clinic's Bidyabati Das and Hasena Banu carrying chairs and other camp requirements to destination, close to 3 kms from ghat in a bi cycle. The Team members of all Boat Clinic units are expert at multi tasking and working in team spirit.
---
Please send feedback to: Bhaswati Goswami at bhaswatigoswami@yahoo.co.in