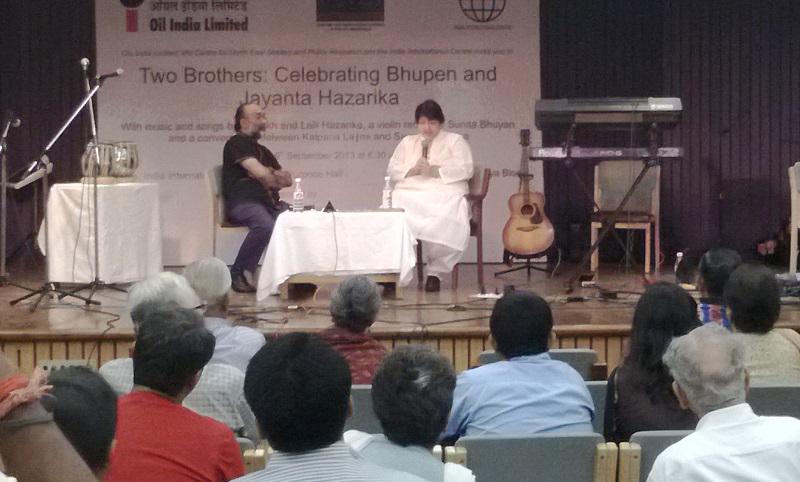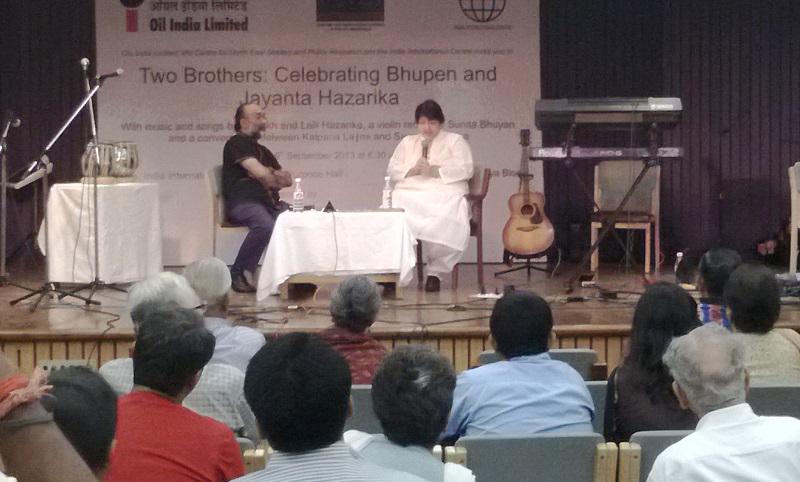 September 8 is an unusual day in Assam; a day of festivities in which the whole state comes together to celebrate the birth anniversary of the Bard of the Brahmaputra, the late Bhupen Hazarika. Bhupen, who would have turned 87 this year, was remembered in faraway Delhi too, with a tribute concert and a discussion at the India International Centre by columnist Sanjoy Hazarika with Kalpana Lajmi – filmmaker and the singer's longstanding partner.
"I was interested in having a pan-audience knowing about him. Of course, a lot is known already but he is known more as a singer. The quality of work that he has done as a reformist, an activist should now be spread," she says. As the chairperson of Bhupen Hazarika Cultural Trust, Kalpana is busy taking Bhupen's music and ideas to different parts of country.
Perhaps this has taken a toll on the filmmaker, whose last film Chingaari, starring Mithun Chakraborty and Sushmita Sen, came out seven years ago. But then again Kalpana, who is a firm believer in the 'meaningful' school of cinema, has never had a reputation for being prolific. "In India, only when you are numerical, loud and big, will everyone notice you. I have always been a little low key in my personality, I never really projected myself in the way today's youngsters do," she says.
Coming from a family of filmmakers (Guru Dutt and Shyam Benegal are her uncles) doubtless gave her access to the world of films, but thereafter Kalpana carved out an identity of her own. Starting her career with a documentary on D.N. Ganguly, an early pioneer of cinema in Bengal, Kalpana moved to feature films with Ek Pal in 1986. Her next was Rudaali in 1993, about the professional mourners of Rajasthan, and was followed by Darmiyaan, Daman and Kyon? Kalpana also worked intermittently in television, often in association with Bhupen, through serials like Lohit Kinare and Dawn.
Although her films are often women-centric, Kalpana refuses to wear the label of women's filmmaker, or even that of a woman filmmaker. "It's not a simple profession. You are handling 80 different temperaments in one go on the field and you are dealing with preconditioning of centuries where a woman is not looked up to or listened to. So there is that resentment always. One has gone through that but one has overcome that too. So I feel you should always be called a filmmaker," she says.
Kalpana believes each period is interesting in its own right for a filmmaker, but registers her displeasure with the state of films today. "It's not even escapism, it's something worse. There are of course interesting films that have come through, but no one wants to highlight rural India, and everyone feels content with comedies. Even if you talk about a Vicky Donor or a Tere Bin Laden, it has the entire thread of comedy. If they were made with a serious tone, would they have been able to garner that audience? I doubt it."
"Today's filmmakers don't have any connect with rural India, with history or geography or the heartbeat of the country. Unless you go, travel and get creatively aroused nothing will change. If you are sitting in your ivory towers in your cities, you are way, way away from what is truly India."
Accompanying Bhupen on his travels opened Kalpana up to the realities of the country; and they inevitably found a way into her films. Even though she has never had the success Rudaali did, Kalpana says she will continue to make cinema she believes in, no matter how hard it proves.
"I don't get swayed by failure or success. No doubt when you are successful it's a wonderful high but it doesn't mean, if your work has failed, that you are a failure. That I learnt from Bhupen, that you have to believe in your creativity, you have to have faith in what you stand for," she says.
A self-declared workaholic, Kalpana always found it difficult to handle lean periods. Her cure, which she discovered during Bhupen's lifetime and continues to use till date, has been to immerse herself in popularising him. "I truly devoted myself fully to Bhupen's work. I took it on as a second option. It was not just managing his shows. I started giving a creative format to his shows. We would travel all over and all the non-Assamese, non-Bengali areas where he would sing, I would narrate the incident that made him write the particular song… I spent 30 years with him having his programmes done abroad, across the United States, the U.K., Canada, and he really spread out in those 30 years. It hurts when people claim that I took him away, commercialised him and whipped him till he died. It wasn't like that and I will see to it that he is not remembered in musical history as an Assamese. He has to go down as one of the greats of the world."
http://www.thehindu.com/features/cinema/o-bideshi-bandhu/article5131546.ece