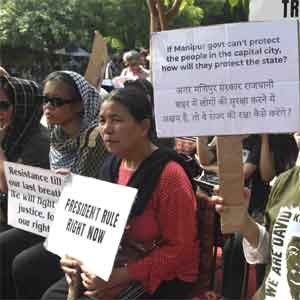 Manipur: Tough questions we need to be asking
The situation in Manipur has been complex, fluid and volatile for a while now. But now something truly horrific has emerged with the sexual abuse, molestation and parading naked of two tribal women, who were given a choice of death or shedding their clothes on a country road and in village fields around B Phainom village in Kangpokpi district.
The incident raises some important questions. One pertains to the unprecedented internet shutdown in Manipur: was the state government worried that the spread of such news would further shred its authority? Did the shutdown exacerbate the situation such that incidents are being reported two months after their occurrence, worsening the nightmare for the victims and for all of Manipur?
Many in the civil society sphere have spoken of how the incident shows that conflicts are often framed and fought over women's bodies. But these are not just acts of aggression. They represent acts of humiliation to show not just who is the weaker or stronger but which group is the more entitled.
The Prime Minister spoke of his anger and grief on the incident and of other incidents in Rajasthan and Chhattisgarh, urging stronger law enforcement by chief ministers. One only wishes he had spoken earlier.
I will dwell on a few issues, for there are many and space is limited: The question of responsibility goes beyond nailing the abusers right to the top. It is not past achievements that matter but what officials and leaders did during those terrible days to calm the situation and secure all communities. Did they uphold their oath of office? In this case, it would be easy to blame the police party which failed to protect the victims. They must be prosecuted, as also those who allowed thousands of weapons to be looted from police armouries without firing a shot. One could argue that the latter were vastly outnumbered by mobs and wished to avoid collateral damage. But it is these stolen weapons that are being used by either side in a fratricidal conflict that appears unlikely to ebb soon.
One is deeply respectful of the sacrifice, influence and capacity of Manipur's civil society. Flashback to the Oinam tragedy of 1987, when security forces went on a rampage after a deadly attack by an armed Naga group; Irom Sharmila's 16-year epic hunger strike against the Armed Forces Special Powers Act (AFSPA); and the campaigns over the shooting of Manorama Devi that triggered the naked protest by women before Kangla Fort, embedding those searing images in our collective memory. The upsurge led to the institution of the first government-mandated review of AFSPA. The Centre was forced to respond and 16 years later, it has lifted AFSPA though not repealed it from more parts of Assam, Manipur and Nagaland. But there are growing demands for its re-imposition in Manipur, something the Centre has done well to resist so far.
In this light, can this terrible tragedy and other incidents help all sides to recognise the primacy of human rights and agree on the need for the protection of non-combatants, especially the vulnerable and weak? More than 50,000 displaced persons still live in relief camps; they've lost everything and make do with basic food and health essentials. The studies of school and college students have been disrupted. How can those who need special medical care cope?
In addition, counselling for post traumatic stress disorder and not just treatment for injuries is critical for the victims and their families as well as for other survivors who have looked death and disaster in the face.
Before the first riots and targeted violence broke out, Manipur — or at least the Imphal Valley — appeared to be moving forward, both in terms of aspiration as well as infrastructure and investments. The hard work of decades went up in smoke in a few days. Not only has the energy of the Act East policy dissipated, but investors will ask tough questions about safety, infrastructure and connectivity to south-east Asia which was to be through Manipur.
Finally, given the armed confrontation, access to weapons, acute mutual suspicion and hatred, senior military officials are concerned that the state may slip back into earlier conflicted decades. Underground militant groups are working extensively both in the valley and the hills, adding to a fragile security situation which cannot be allowed to drift especially in light of insurgent activity, drug rings, and the interests of Myanmar and China. Priorities must be to disarm the combatants, protect civilians and restore confidence in the system. Only then can serious dialogue begin. Peace and stability are consequences, and there's a long haul ahead.
Sanjoy Hazarika is a commentator and author who specialises in the North-East and its neighbourhood.
Times of India