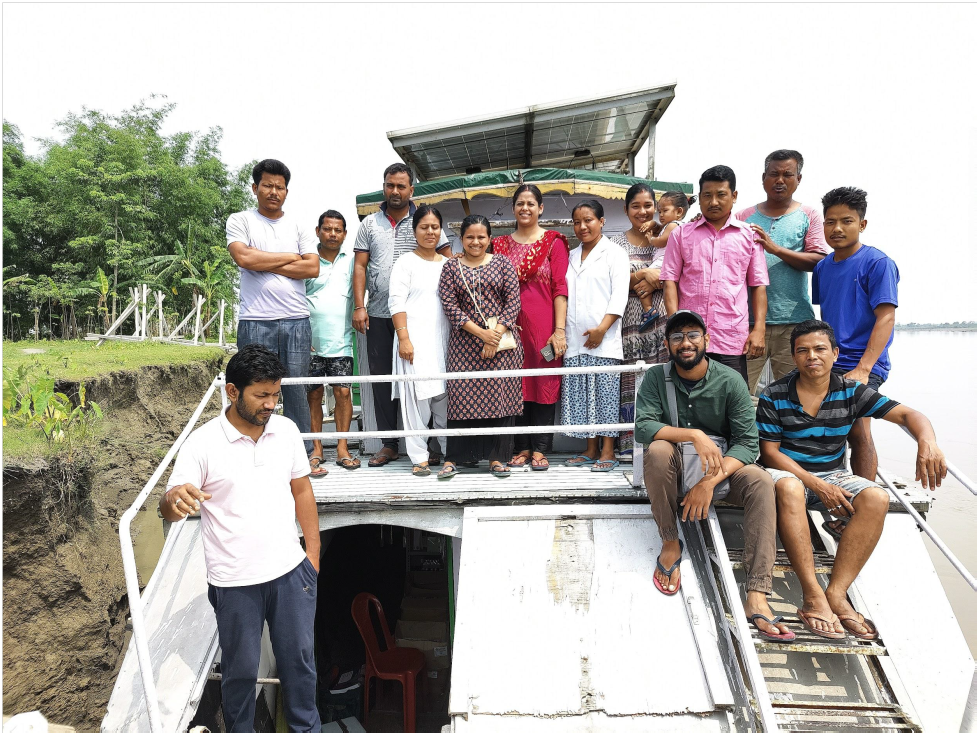 JOB ANNOUNCEMENT: District Program Managers (Consultant)
The Centre for North East Studies & Policy Research (C-NES) in partnership with Population Council Consulting Private Ltd. (PC Consulting), is looking for District Program Manager to implement a project that aims to contribute to a reduction in maternal morbidity and mortality in the State of Assam (SoA) by adapting, testing, and scaling up a digital marketplace approach.
POSITION TITLE: District Program Managers (Consultant)
REPORTING TO: State Program Manager and Project Coordinator
LOCATION: Kamrup Metro, Jorhat & Bongaigaon Districts of Assam
LENGTH OF ASSIGNMENT: Fixed Term ontract
COMPENSATION: Rs.24,000/- per month + travel allowance
The District Project Manager will be responsible for the overall coordination and delivery of the project in the project districts, working in close collaboration with the Coalition partners and Coalition Leadership Team. The District Program Manager will be based in Guwahati, Jorhat & Bongaigaon districts of Assam, with frequent travel to project locations in the district.
Scope of Work
The District Program Manager will provide overall technical, and operational leadership of the coalition at district level to achieve the project's goals and objectives. The candidate will oversee the project team and manage the coalition partners in the project district, maintaining relationships with all partners and ensuring that the field teams and partners are actively involved in achieving the project objectives. The District Program Manager will provide support to State Program Manager in reviewing and monitoring the project progress in coordination with key staff at district level, and with guidance from Coalition leadership team. The District Program Manager will be based in Assam.
Major Responsibilities
Support in implementing project workplan and provide technical & strategic support to the district field team.
Monitor the day-to-day implementation of the solution in the district and report to the State Program Manager.
Manage and coordinate activities of the project in the project districts.
Take lead in identifying and fostering partnerships with relevant organizations and hospitals and clinics working in Maternal New-born and Child Health in the district.
Be the key person in organizing and implementing the district plans and coordinating among the field team, district service providers from both public and private facilities, and the community.
Manage the day-to-day implementation and operations of the programme.
Support the project communication specialist in the development of project materials.
Train district project field team on project implementation and monitoring.
Coordinate with district field teams to ensure implementation of the project as per the implementation plan.
Ensure adequate inputs for the periodic reporting and progress update presentations including blogs, success stories, anecdotes, and photos.
Key Working Relationships
Position reports to: State Program Manager and Project Director for technical inputs
Position directly supervises: District Field Team, coalition staff and other monitoring staff.
Education:
Graduate degree in Public Health /Social Work/Development/Development studies/Rural Development/Rural Management/Women Studies
Experience:
Minimum 3 years of relevant experience, preferably working in implementation of Maternal and Child Health programs
Familiarity with health program in the state and has in-depth understanding of the state health system and challenges.
Demonstrable experience handling organizational assignments.
Should have managed a team of at least 5 members.
Competencies
Ability to communicate insights and knowledge across various teams and stakeholders.
Should be interested to work with the rural communities to create a more inclusive society.
Familiar with health program in the state and has in-depth understanding of the state health system and challenges.
Be the focal person for the district in implementing the solution.
Honest, fair and objective in work.
Willing to travel extensively in the district as needed.
Have proficiency in the use of computers and office software packages (MS Word, Excel, etc.)
Cross-cultural communications, including English proficiency and ability to work in a bilingual environment (English and Assamese, Hindi).
Ability to work under time pressure and meet deadlines.
Excellent written and communication skills in English.
Be a team player and comfortable in working with external consultants, contractors, vendors, etc.
Languages Required:
Fluency in English & Assamese – spoken, read and write for all official communication is essential.
If you are interested in applying for this position, please send a cover letter justifying how you are fit for the position along with your resume (should not exceed 3 pages) by 15 February, 2023 to Email: officeasstguwahati@c-nes.org. The email should indicate the job title in the subject line. Only short-listed candidates will be invited to appear for interview/s (virtual/in-person).