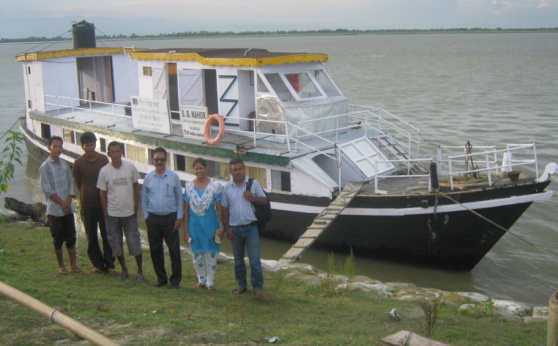 C-NES Newsletter (July – September 2015)
By the Brahmaputra (Vol: 31)
C-NES Newsletter
(For the Quarter July – September 2015)
Editorial
By the Brahmaputra
Swach Bharat – Go Beyond Toilets, Clean Up Industry
As the Government of India and the Prime Minister rightfully declare that cleaning up India – or Swach Bharat – is ritical for making it a more attractive place in which to invest, travel and even settle, there are several fundamental questions that face us.  Without tackling them fiercely, that future which is spoken of so often. so glowingly and by so many will remain unattainable, unhealthy and full of muck.
This is true of every part of the country, especially of urban India, whether we speak of Dibrugarh, Guwahati, Kohima, Agartala, Itanagar or Shillong or of any other part of the country, be it Indore or Chennai, Mumbai or Mangalore, Kolkata or Jaipur. It doesn't matter whether it's a BJP-ruled state or a state ruled by any other party, including the Congress.
Undertaking a major transformative commitment in our personal lives by accepting and embracing the need for sanitation is not enough. It is not enough to change personal habits even on a large enough scale.  The more difficult issue is that of industrialization, which exists at many levels.  It is a question of how we want to grow and challenges the very basis of the Make in India campaign. There are issues of policy, environmental controls, land control and land use laws, labour migration and settlement. And, no, I am not a Luddite.
It is not possible to go into detail the entire gamut of manufacture, accumulation, distribution, processing and production as well as use of natural resources. But it is obvious, even from examples in the North-east, especially in Assam, that the quality of care for the environment, which individuals and many industries use and abuse, is virtually non-existent.  Thus, we've been Making in India, but at what cost?  The dolphins of the Brahmaputra which played in the waters of the river around Guwahati are not to be seen, driven away by decades of unrelenting and uncontrolled pollution by the refinery at Narengi as well as the vicious untreated sewage discharged by drains into the river's flanks. That the latter is changing is not because people have woken up to the need for pollution control. It is because the government realized that a combination of slack laws and the connivance of politicians and officials in illegal construction on the old channels of the river was unsustainable. And that corruption and collusion involving residents, builders and officials were also basic factors behind such devastation. The government acted, not out of any altruistic intent, but because the lives and properties of voters and citizens as well as to the state exchequer were harmed.
This, while it is important that the Swach Bharat campaign should focus on building toilets, a question to address is how much do poor human pollute the land or cause harm to their health? How does that compare with the vast damage that is done every hour of every day to our people, rivers and streams, hills and forests, farms and lands by an unchecked industrial process that does not even listen to judicial rulings. Ordinary people are also complicit in this.
That is why, to my mind, it is not a campaign of cleaning up our personal lives and ensuring that human excreta and urine go into septic tanks and compost pits.  It is a much larger issue of policy and how we want to live as a nation, how we want to grow and what are the steps needed to be taken to make industry more responsible and less toxic.
Just take a look around: the Taj Mahal is now stained and polluted by industry in and around Agra despite many efforts to move industries and local iron foundries out. Kanpur's tanneries continue to pour their toxins into the Ganges. Human skeletons (purportedly human sacrifices) are excavated from the illegal quarries of a mining baron in Tamilnadu. Name one major river (barring the Brahmaputra and its tributaries, which till now, thank god don't have the kind of industries that the rest of India do) which has escaped the brutality of industrial pollution. Toxic metals leach into the soil. The earth tries to resist and rebound but is laid waste by regular assaults by industrial chemicals, year after year.
Look at what unscientific coal mining does in Assam and in Meghalaya apart from Jharkhand and elsewhere.  Consider the toll on vulnerable, unorganized workers and on fresh water streams. The earth sends messages of caution against abuse with earthquakes, cloud bursts and landslides, but neither do we see or listen. We're too blinded and deafened by greed to see or hear.
In Uttarakhand, everyone talks about the deo boomi but the houses and hotels which collapsed after the cloudburst of 2013 are being rebuilt at the same place with government funds!  What craziness is this? That same cloudburst swamped not less than 30-odd small dams with rubble, making them completely unusable.  And governments still swear by dams in the quake-prone Himalaya? This Central Government, according to a report in this paper, is desperately pushing for as many dams as possible. Is that because of pressure from funders like the World Bank or because industrial friends and supporters need to be sustained?
The media is also blind. When a tunnel collapses and traps three workers of whom two are brought out alive after a week's struggle, it focuses on the frenzied evacuation effort. We don't look at the larger picture, that it was the policy to build a highway which actually trapped the workers.
No one talks about the hydro project turbine tunnel in Northern Sikkim which collapsed in the 2011 September quake, trapping many inside. No one is saying how many died, their names have not been made public, who, if any took responsibility. I wonder how many of their families got compensation.
The strongest challenge to Swach Bharat is not just in the sanitary habits or otherwise of Indians. It is the reckless industrialization of our land, with hugely differing stages of quality and control. These produce the vast volume of products which litter our streets, swamp garbage bins, end up in the stomachs of cows, pollute and leach into water systems, soil and threaten every breath we take in a metro like Delhi.
To the Government of India, I would say that the most visible challenge lies in in the very heart of Delhi – the dead or dying Jamuna, tributary of the Ganga, part of mythology but very much part of history and geography of our country. It has been killed by a lethal cocktail of industrial effluents and agricultural runoff of pesticides and fertilizers, which no court or government deadline seems able to impact. The helpless of law enforcers is clear here.
So, yes, do build toilets for every Indian family. But also clean the air and water of toxins by tackling policies and industries that dump them there in the first place.
A news story in the Times of buttresses my point: "The afternoon sun was blazing down, but that did not deter trucks packed with gulaal-smeared faces to make a beeline at Kalindi Kunj ghat so that Ganesha idols could be immersed in the Yamuna. Amidst the loud music, honking and chants of Ganapati Bappa Moriya, the crowd drowned in puja material, rotting flowers, garlands, oil, discarded wicks and earthen lamps in stark violation of National Green Tribunal (NGT) orders".
Sanjoy Hazarika
Managing Trustee
(From his regular column in the Assam Tribune published on 30th September 2015)
---
Health Camps through Radio Brahmaputra
For the first times health camps at Dhemaji was announced through C-NES' Brahmaputra Community Radio Station, popularly known as Radio Brahmaputra. The station which started with initial support from UNICEF is an innovative effort to reach the marginalized and poor with new ideas, opportunities, giving them a platform to speak and perform in their own voices and access to better lives. Besides running radio plays and programmes on issues as diverse as domestic violence, substance abuse, sanitation, safe drinking water, nutrition for children the radio also hopes to reach out to the targeted communities and provide information pertaining to National Health Mission and other government schemes.
The "radio announced" health camp was organized at Laxmistuti sapori, a remote Brahmaputra river island in upper Assam's Dhemaji district bordering the state of Arunachal Pradesh. As the health team was returning from an earlier camp, the Dhemaji District Programme Officer, Tapan Borah got a call from Bhaskar Bhuyan the  Coordinator of the radio station asking him about the destination of the next camp which he said would be informed to beneficiaries through the Brahmaputra Radio Centre. Accordingly on 14the September 2015 when the team reached the camp venue they were pleasantly surprised to find all beneficiaries including pregnant women and children gathered at the camp site.  It was a big crowd, most of whom were excited at having got the information through the radio station. In sapories of Dhemaji, most villages are scattered and far away making it difficult for our community workers and ASHA to inform all beneficiaries
---
From the field:
On floods
Floods are common in Assam during monsoons, more so in the riverine locations which get totally marooned. With disruption of road communication, damaged bridges and overflowing water, people have to shift to safer locations.  The public utility services come to a halt and affected people become exposed to health crisis with environmental degradation, more so post floods. At times they suffer from nutritional deficiencies as well .This situation is much severe in the isolated river islands, where people have to save themselves and their means of livelihood with their limited resources. The turbulent floodwater creates devastation. Over long years of living with floods, the inhabitants have leant to adapt to their surroundings and live with floods. They have developed their life-skills accordingly; here every child learns to swim for survival, children and women know how to row boats, they construct stilt house and raised homestead, every family tries to acquire a boat for their own. Inspite of such survival skills, health becomes a critical issue. People are thus commonly affected by health problems caused by contaminated water and unsafe hygiene and sanitation conditions more so during and post flood. Thus immediate health intervention is a priority need in these areas. As every monsoon, the Dibrugarh Boat clinic made their preparation to immediately respond to such an emergency situation but fortunately the situation during July 2015 as under control. Apart from displacement of population, the other problem faced by the boat clinic unit making navigation difficult was  the many new water routes caused by floods with  deposition and erosion, swiftly floating driftwood with sharp edges and sudden mist in the  river with melting  glacial  water from up north.
Arup Saikia, DPO, Dibrugarh, Boat Clinic Unit
Dibrugarh July 2015
---
Commemorating World Population Day
On 18th July commemorating the World Population Day, observed on 11th July, an awareness camp on adoption of family planning methods was organized at Charikholia sapori, Dibrugarh district. Related issues such as protection of the girl child, prevention of early marriage, adoption of temporary and permanent family planning methods, encouragement for small family were also discussed. The inhabitants of this island village belong to the Bhojpuri community where society is not open and women generally do not speak openly in front of men so there were two groups made after the general introductory session. The CWs, ASHAs and AWW were the main facilitators for the sessions. The session started with a Bhojpuri wedding song by villager Malati Yadav to advise the bride about married life-how to manage a family.  The discussions included topics such as why the society needs the girl child, on how the girl child was an asset to the family and society. The facilitators warned  people that determination of sex of fetus is a serious offense mentioning the legitimate regulations. Case studies of early marriage from the locality- the socio-economic and critical health related complications as a result of early marriage both in case of boys and girls were discussed. A pre-recorded  programme on family planning produced by the Brahmaputra Community Radio Station (BCRS) in  Bhojpuri language was played After these sessions the various questions raised by the participants were answered by the medical officers of the boat clinic unit. The DPO of boat clinic unit Arup Saikia summarized the entire session and offers thanks to the participants for their active participants.
---
Health Camp in Lamba Mishing Sapori, Dhemaji

The patient being examined inside the Dhemaji Boat Clinic by Dr Rahul Mistri
Our team was conducting a Our team was conducting a camp in Lamba missing sapori. It was a hot and sunny day. We were tired and I was telling my team members to wind up
soon. At around 4pm a woman came to us somehow carrying her husband and told us he is very sick. When my colleague Dr. Vivek and I examined the patient, he had high fever and body ache. ANM Junmoni Saikia checked the temperature and it was 103F. We were worried as we thought it was a case of malaria. Accordingly Nitul Borah, our laboratory technician conducted the test which tested negative. We gave him necessary medications. It took us about one hour and forty five minutes to bring down his temperature by which he was somewhat feeling better. At around 6pm, before leaving the camp site, we gave the patient some medicines and told him to contact us. The next morning,   community worker Puneswar Baruah called the patient's wife and was told that he was better now. This was a relief as I was thinking that he might have been suffering from Japanese Encephalitis. His wife was happy and told us that next time we go to their sapori, they will serve us local chicken.
Dr. Rahul Mistry
Medical Officer, Dhemaji Boat clinic
---
Visitors to Morigaon Boat Clinic
The ADC Health Morigaon, Anuradha Adikari Sharma visited a Morigaon Boat clinic camp on 6th of August 2015 along with Joint director of Health services Morigaon, Dr. Udayan Bordoloi. The camp was organized near Kisamguri LP School. The total population of the char village is around 992. To generate awareness among people of the village, an awareness session was also organized along with the health checkup and immunization where DPO, DME and family planning counsellor talked on exclusive breast feeding, nutrition, hand washing and the importance of family planning. Steps of hand washing were also executed in front of the village people.  IEC materials were also distributed on the same.
---
PFI Review Visit
Alok Vajpeyi ,Head, Core Grants and Knowledge Management of the New Delhi based Population Foundation of India (PFI) visited Assam from  May 20-22, 2015 to review  the Boat Clinic project's family planning component being implemented by C-NES in Morigaon, Sonitur,Bongaigaon, Barpeta and Dhubri districts of Assam.
During the visit he met the Joint Director and Civil Surgeon and the district health officials at Bongaigaon and visited the boat clinic on May 20. On May 21, he went on the boat clinic to a remote island in Barpeta district where a health and family planning counselling camp for the target population was organized. Dr. C. R. Hira, Technical Consultant (Health), Chandana Borah, State Project Coordinator, District Project Officers and Family Planning Counsellors from Bongaigaon and Barpeta districts accompanied  him on the visit. Both Bongaigaon and Barpeta are project districts.  On May 22, a meeting was organized with CNES' Programme Management Unit at Guwahati and project teams from five districts to review the program.
---
Inter Personal Communication Training
A training on Inter Personal Communication (IPCC) Workshop on Behavior Change Communication (BCC) with special emphasis on Inter Personal Communication (IPC) Techniques for Family planning Counsellors (FPCs), ANMs and Community Workers (CWs) was organized by  C-NES' PFI team working on family planning on 3rd and 4th September 2015 at the State Institute of   Health and Family Welfare, Khanapara, Guwahati. Sikha Borthakur State BCC Expert, NHM Assam was the resource person of the training. It was an interactive training and the technical sessions witnessed keen participation by the trainees on topics such as process strategic BCC, communication channels and message for communication. Group activity was also given to the participants on topics such as promoting consumption of IFA tablet among pregnant women using principles of BCC,promoting condom use using BCC techniques and promoting the behavior of hand washing and its necessity using BCC techniques.
---
Groundwater Management Workshop
C-NES' Associate Programme Manager, Manik Boruah attended a 15 day training on Participatory Groundwater Management Training Workshop at  Dehradun from 9th June to 23rd June 2015. The workshop was organized by the People's Science Institute, Dehradun,  a leading institute on ground water issues.  22 participants from various organizations/ institutions across the country took part at the training. It may be mentioned that India is the largest ground water user (One fourth of total ground water in the world). 85% population of India is dependent on it and  India is also the highest user of ground water in agriculture. Over 20 million irrigation wells are operating in India, with 0.8 million added each year. As per World Bank report by 2025, 60% of India's ground blocks will be in very critical position. NER contributes 8% of Indian landmass and has 34% of nation's total ground water. Yet only 5% of people of this region are able to use it. Now, in India 66 million people are at the risk due to excess fluoride and 10 million in Arsenic.
The first session on Ground Water Science was taken by Dr. Anil Gautam, Head of the Environment Quality Monitoring Division of PSI. He gave a brief introduction of ground water, its importance and ground water related problems in India. On 13th June a field trip was made to the nearby Song River to demonstrate measuring of height, slope, horizontal and vertical distances and identify Dr. Ravi Chopra, Former Director of PSI took a detailed session on community mobilization on 19th June after the group presentation. Manik Boruah also presented C-NES' programmes and activities including the organization's community radio station which was widely appreciated.
---
 Nutrition and Adolescent Health Care
Twenty trainings on Nutrition and Adolescence health care in the 5 PFI districts were conducted (from February to June 2015) covering 20 chars and 2799 adolescents supported by NHM. A message on healthy eating habits, how a meal can become nutritious with locally available products with the right cooking method was conveyed to the beneficiaries. The idea behind holding such a training was that all adolescent girls would become a mother in future so the importance of taking care of their nutrition and thereby preparing them for healthy motherhood. The role of diet in preventing anemia, the importance of iron, folic acid, calcium and the importance of personal hygiene was highlighted. Proper nutrition and a balanced diet plays a very important part especially during the period of adolescence when the body starts to grow and physical changes takes place.  Girls start menstruation during this period. Therefore iron rich food like fish, meat and green leafy vegetables should be consumed. Ms. Sangita Saikia, State Nutritional Executive, NHM helped in engaging the district dieticians in the programme.
The Bongaigaon Boat Clinic conducted four training programme in the month of June-15  at 4 different targeted char/villages- Mohanpur, Satsobigha East, Usunger  and Iswarjari pub majer supported by the District Health Society (DHS) . At Sonitpur the trainings were conducted at Alitengani Muslim Chapori, Tintikia, Sorebill Char and New Batuli char. At Barpeta the trainings were organized at Aduri char West, Morichakandhi Char West Nirola char and Arimari- Balidhari. At Morigaon district trainings were conducted Bhangkoura Char  Marishali Char Sandhokati Char Pithakaity Char. At Dhubri tarinings were conducted at Katiar Alga Chalakura Pt III Ayermari Char and Purapur Char
.
---
Food and Nutrition camp at Dhemaji
An awareness camp on food and nutrition was conducted at Sengajan Gowala village on 3rd September 2015 as part of the National Nutrition week. It was organized onboard the Boat Clinic due to floods. Tapan Borah,DPO, Dhemaji explained the objectives of the Awareness camp .Dr. Rahul Mistry, MO, Dhemaji Boat Clinic,explained the importance of nutrition for human growth and stressed the importance of locally available fruits and vegetables which were extremely nutritious. The ASHA, AWW and staff of boat clinic Dhemaji were present in the camp.
---
Boat Clinics Observe Breast Feeding Week
The World Breast Feeding Week is observed from 1st August to 7th August. C-NES' Boat Clinics  also observed the week in different char villages to generate awareness on the importance of breast feeding, to educate the parents about the baby's right to be breastfed, the need to exclusively breast feed the child for six months and demonstrate the correct breast feeding method. Boat Clinics observed the week supported by Association for Promotion of Child Nutrition (APCN), Guwahati, a state level NGO and the District Health Societies in the concerned districts. The Kamrup Boat Clinic observed the World Breast Feeding Week through organizing a mega awareness programme at the Toparpathar village under the Chayygaon BPHC of Kamrup district on 5th August 2015. Apart from the Boat Clinic team C-NES' Technical Consultant, Dr. C.R. Hira; Dr. J.N. Sarma, former HOD, Paediatrics department, GHMCH; Dr. A.C. Sarma, former Child Health & Nutrition Consultant, NHM, Assam; Dr. R.C. Das, SDM&HO, Chayygaon BPHC and Mr. Hasibuddin Barbhuyan, BPM, Chhaygaon BHPC  also participated the programme. The Dhubri Boat Clinic Unit-II organized an awareness camp on the occasion along with a regular health camp in Chalbandha NC on 6th August 2015. The District Media Expert Mr. Pravakar Chakravarty and the District Dietician Sultana Afrin Kousar attended the programme as resource persons along with representatives from District Health Society, Dhubri. C-NES' Associate Programme Manager Manik Boruah was also present in the programme. On 7th August 2015, the Morigaon Boat Clinic organized an awareness camp at Kajiar Char. Chandana Borah, State Advocacy and Family Planning Coordinator of PFI project attended the programme.
The same day the Barpeta Boat Clinic, Unit-II organized an awareness programme at Aligaon N.C under the Mandia BPHC. Mr. Raben Das, District Family Planning Coordinator, Barpeta and Dr. Michel Baghwar, MO, Barpeta Boat Clinic, Unit-II were the key resource persons. The Nalbari Boat Clinic organized two awareness programmes on Breast Feeding on 6th and 7th August, 2015. On 6th August the camp was organized at Barbella Part-III and at Barbella Part-I on 7th August, 2015. Dhemaji Boat Clinic: On 7th August 2015 the Dhemaji Boat Clinic organized the breast feeding awareness programme at Koilawali village under Jonai BPHC. Dr. Rahul Mistry, Medical Officer, Dhemaji Boat Clinic and DPO. Tapan Bora spoke about the importance of breast feeding. The Dibrugarh boat clinic unit organized orientations in 8 locations from 5th August 2015 to 8th August 2015.The unit used a 22 minute long pre-recorded radio programme on breast feeding produced by Brahmaputra Community Radio Station, Dibrugarh, played at the campsite followed by a feedback and question/ answer session facilitated by the AWW of the village and ANMs of boat clinic unit. Expert comments were shared by the MOs of the boat clinic unit. Most villages were under the grip of flood so accommodating participants was a challenge. At Romai village the radio had to be hung in a tree as there was no dry area available in the village. At Sonitpur two awareness camps on breast feeding were conducted at Tintikia and Kuttamari char under Dhekiajuli PHC on 28th and 29th August 15 where the importance of breast feeding was discussed Different children's games were conducted before starting the actual meeting. The Jorhat Boat Clinic organized awareness camps at Kankurmukh, Kerker, Dibana, Dokut,Segelisuti, Bhekeli, Huttar and Kathsapori which included nine villages. Medical officers Dr. Debanga Hazarika, Dr Jishan Phukan, GNM Elizabeth Kom, ANM Juli Phukan, ANM Rimpi Bordoloi, Lab Tech Achyut Jyoti Das, Pharmacist Deep jyoti Nath led by DPO Riturekah Baruah and community workers took active participation in these awareness talks. Audio clips by Radio Brahmaputra on breast feeding was extensively used.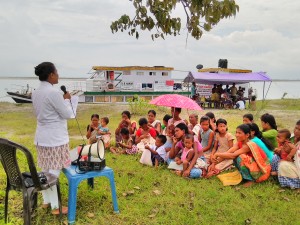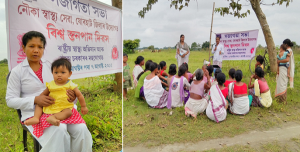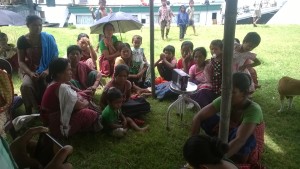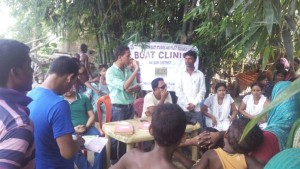 ---
When Boat Clinics go for repair: A report
Boats are the most important component of C-NES' Boat Clinic health outreach programme, acclaimed nationally and internationally for its innovation and outreach. These boats however need at least one major annual set of repairs so that the safety factor is not compromised. Such repairs take long and major repairs can only be done during the dry months of winter when camps are conducted with the help of smaller country boats. Needless to say camps are hampered when major repairs take place because it is difficult to reach out to the farthest and difficult to access islands in smaller boats which are then hired. The Jorhat Boat Clinic, SB Nahor donated by OIL India Ltd to C-NES as part of its CSR policy in 2009 is the largest boat in the C-NES fleet. The boat was handed over to local builder Surja Bhuyan for major repairs in December 2014. Follows a narration with photographs about how the health team managed to carry on the challenging work without the Boat Clinic.
During the absence of Boat Clinic Nahor, the health team had to hire country boats, small utility vehicles, commercial vans and even two wheelers to conduct camps. In January 2015, the team organised day camps in the islands of upper Majuli,the largest river island in the world and riverine villages near Dergaon. Due to lack of  hired boats with  night halt facility  the team was unable to organize camps at the major targeted areas allotted by Kamalabari PHC to the Boat Clinic unit like Kathsapori, Kachikata, Baruah Chuk, Kankurmukh, Kerker, Missamora, Dokut Kumoliya, Sengelisuti, Major sapori, Bhakat sapori and Ulupam Achieving the set target was a challenge. During January and February 2015 the team conducted 14 day camps and 10 IPPI camps by car and two wheelers. 17 camps were conducted during March and April. No boats were hired for conducting camps till April as the river channels had dried up.  In May 2015, the team hired a mechanised boat and conducted 13 camps.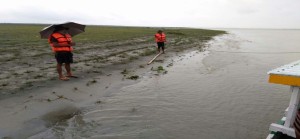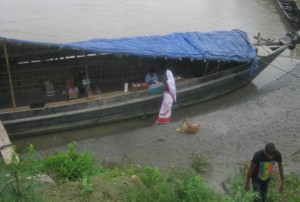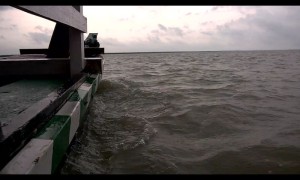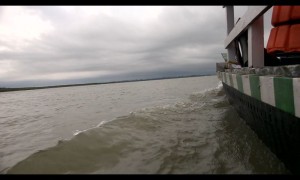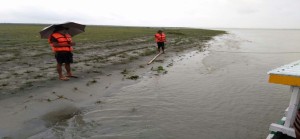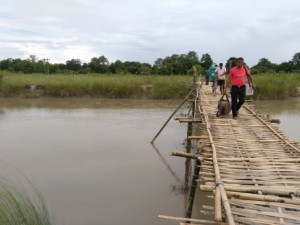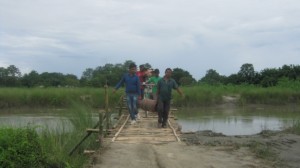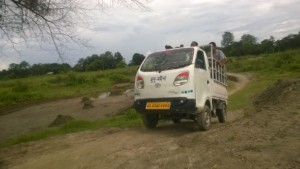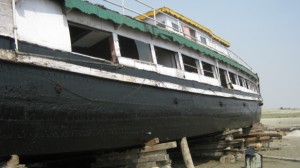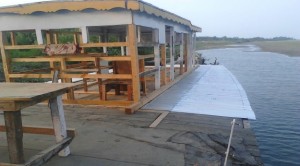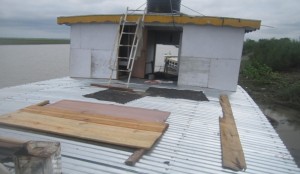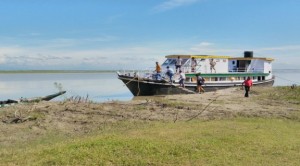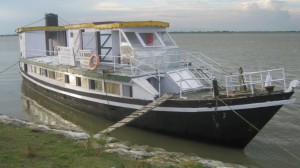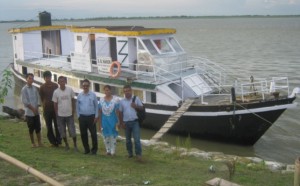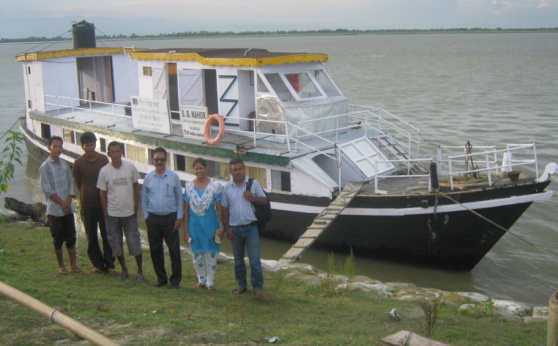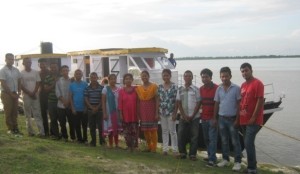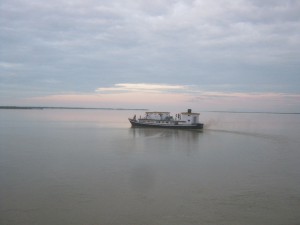 Flood relief camps:
The scheduled date for post repair release of Boat Clinic Nahor boat was 7th of June 2015. The Action Plan was prepared accordingly but with a delay in the release, camps in the interior islands were not possible. Two camp sites near Dergaon (Ghuria and Balisapori) were hence dropped from the Action Plan as it was difficult to reach the locations in cars through muddy, slippery roads with severe pot holes and water logging. More over during flood with  demand for single engine boats being high for passenger transportation,  ( double engine boat takes a much longer time with strong water current) hiring of local mechanised boats is  difficult. The boat owners prefer letting out such boats for passenger service as it is more profitable than letting it out for boat clinic service. Finally on 12th June 2015, the team managed one single engine boat (normally used for carriage of goods) for conducting flood relief camp which was conducted with staff from the Kamalabari PHC. The relief camp was highly appreciated by the district authority and the villagers as well.
Challenging moments:
River Island Bhekeli is a major service area of the Jorhat Boat Clinic. In Februaray 2015 the team decided to cross the small river channel which was comparatively dry during the season in a local country ferry boat with a hired car. It was risky crossing the river like that but the team undertook it as they thought it necessary with beneficiaries waiting for the health service.  The next camp conducted here was after two months when in May 2015, the team organised a camp at Bhekeli by hiring a local mechanised boat.
Bad weather, unsteady boat:
On 30th April 2015, while setting out from Nimati ghat for a camp at Afalamukh on the referral boat, the weather suddenly changed and became overcast. Soon there was heavy downpour accompanied by strong winds which made navigation difficult. The referral boat was not fit for such weather condition. The team members were terrified. It was immediately decided to halt the journey and the skilful boat crew somehow managed to safely bring back the team to Nimati ghat. A decision was taken to henceforth not use the referral boat during this season with water level rising.
Determined to conduct camps even in  far off areas, the team decided to set out for distant locations coming back to take a  2/3 night halt onboard SB Nahor which was under construction. Camps were accordingly arranged at Ulupam, Bhakat sapori and Afalamukh. With the help of local ASHAs the team successfully conducted camps in such locations despite harsh physical challenges.
Finally Ready: On 9th of July 2015, SB Nahor was finally handed over to the Jorhat Boat Clinic team in presence of Programme Manager Ashok Rao and Associate Progrramme Manager Manik Baruah to render its services to the needy.
— Riturekha Baruah Phukan DPO, Jorhat Boat Clinic