By the Brahmaputra (Vol: 40)
C-NES Newsletter
(For the Quarter October – December 2017)
Singapore Documentary covers Boat Clinic
An award-winning content production company from Singapore Filmat36 (S) Pte Ltd, featured C-NES in the upcoming season of their series, Kembara Kasih (A Journey of Love). This Travel-Documentary series follows the journey of their host and a volunteer on a quest around the world to travel to do well. The"Journey of Love" programme reaches out to other impoverished communities sharing missions of social responsible and community service with a hope that the programme would inspire more to come forward to volunteer and improve their conditions. In September 2017, the programme covered the Dibrugarh Boat Clinic team in this programme.
The film team reached Dibrugarh on 13th September 2017. Since the team was quite big to accommodate in the Dibrugarh Boat Clinic SB AKHA, separate arrangements were made assisted by the Dibrugarh team. A boat was hired from Guijanghat, Tinsukia. Both the teams stayed the night at Mesakichapori on the 13th September. From the 14th till the 16th September the documentary team took continuous shots of the health camps in various river island villages including Mesai, Udaipur, Ramsingh I and II and Singapur covering the beneficiaries, the health team members and camp activities.
They interviewed patients and boat clinic team members. Along with the routine heath awareness sessions special ones were conducted by the community workers and AWWs on oral hygiene as the documentary team distributed tooth brushes and tooth pastes to the beneficiaries. Volunteers from the visiting group helped in conducting the sessions. The team returned to Dibrugarh and left for Singapore on 17th September 2017
Visitors from IDE, Japan
A four member team from Japan visited Guwahati from the 13th to 16th November 2017 as part of a C-NES project on 'India's North Eastern Region and Connectivity: Japan's Engagement in the Past, Present and Future' conducted at the Institute of Developing Economies (IDE-JETRO, a governmental research organization under the auspices of the Ministry of Economy, Industry and Trade, Japan. The team comprised of Mayumi Mayumi, Director General of Research Promotion Department at IDE-JETRO, an area specialist working mostly on India and Bangladesh. Prof Takenori Horimoto, an expert on India -Japan relationship, Mari Izuyama, a researcher of National Institute for Defense Studies and Kanako Sakai who has specializes in South Asia and is a library professional at the Institute of Developing Economies, Japan External Trade Organization (IDE-JETRO).
The project aims firstly, to evaluate the changing context of according significance to the North Easter Region in India-Japan relationship and secondly to investigate the current conditions of connectivity in terms of economic and infrastructural development and human mobility within the North Eastern Region and with neighbouring countries. It seeks to assess the potentialities along with problems, and to elucidate impacts of improving connectivity on the different group of people and the institutions."
C-NES, Guwahati facilitated their visit to the region. Meetings were organized with Prof. MP Bezbaruah, Dept of Economics, GU, Chambers of Commerce, Guwahati, Dr Ravi Kota, Finance Commissioner, Himangshu Shekhar Das, Chief Information Commissioner, Assam and Faculty members from the Omeo Kumar Das Institute of Social Change &Development. The team also visited a health camp conducted by the Boat Clinic Unit at Kamrup on 14th November 2017. On the 16th they proceeded to Agartala from Guwahati.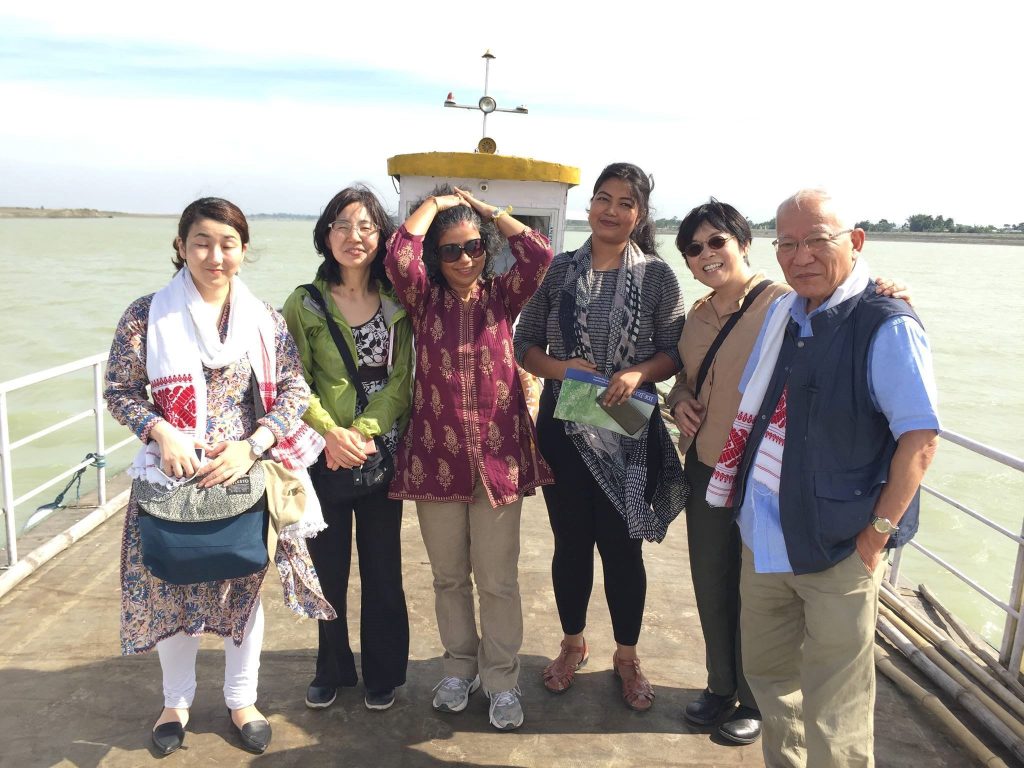 SELCO's CSR workshop
Programme Manager Ashok Rao and Communications Officer Bhaswati Goswami attended a workshop "CSR-Unlocking Innovation and Partnership For Underserved "organized by SELCO Foundation in collaboration with ENVO Business Solutions, at Guwahati on 11th December 2017.
Exploding populations, increasing rates of migration to already crowded urban areas, depleting natural resources and unpredictable weather patterns have challenged the effective delivery of essential services to the poor. Unable to access basic services and opportunities like clean water, reliable energy, basic housing, nutrition, and health care, the poor are structurally denied the ability to attain social and economic mobility. There is an urgent need for different stakeholders to come together to create an enabling environment that essentially serves as an insurance against this social instability. CSR has an important role to play in pushing for sustainable impact.
As chief guest of the programme, Ashok Rao spoke about the Boat Clinics and need based intervention along with opportunities for corporates to reach communities through reliable partners. Bhaswati Goswami shared her experiences on CSR for C-NES and spoke about a holistic approach to development and processes that can help other organisations to learn from as well,
National Workshop on Sustainable Energy
The Second National Workshop on Sustainable Energy Ecosystems for Decentralized Healthcare was held in Bangalore on 1 December 2017 organized by SELCO. There were over 40 participants from 8 States, bringing in perspectives on healthcare delivery in very different and difficult contexts. Ashok Rao, Programme Manager was a panelist in the session: Impact and scope for energy interventions in primary health care along with Dr. Sr Aquinas (Swasthya Swaraj) and Venkatnarayan Chekuri (Karuna Trust). The session was moderated by Huda Jaffer from SELCO Foundation. The healthcare priorities and energy requirements of a PHC would depend on a number of geographic, demographic and operational parameters specific to the region. SELCO Foundation has worked closely with Karuna Trust, Swasthya Swaraj, C-NES, Tribal Health Initiative and other health and technology partners to understand the typology of health centers and implemented energy and efficiency solutions designed to improve healthcare delivery. The panel focused on the learning from these projects and the scope and requirements for further work
Visitor from CHRI, UK
David White, Head of Office for Commonwealth Human Rights Initiative (CHRI) in the UK, visited a Kamrup Boat Clinic health camp on 4th December 2011. He was accompanied by Communications Officer Bhaswati Goswami. It was a long boat journey of about three hours both ways to and fro the camp and a walk of about half an hour to the camp site at a school in the interior of the village. "Hugely impressed with the work of the clinic and dedication and resourcefulness of the staff here. There is no doubt that the clinics are providing an innovative, impactful and much needed service. Long may they continue" were his comments on the Visitors Book.
Reaching the last mile
C-NES' 15 Boat Clinic Units provide health services to remote river island villages of the mighty Brahmaputra under extremely challenging conditions. Maximum effort is taken to ensure that services are taken to the last mile with special focus on mother and child and the vulnerable adult groups. This year the Vitamin A supplement program started in Assam from 1st November 2017. The Boat Clinic health teams have taken lot of efforts to give Vitamin A supplements to all children in their targeted char/sapori areas by organizing special camps, awareness sessions and distributing IEC leaflets. The teams have visited homes, cultivating fields, schools for covering those children who did not come to the scheduled health camps and vaccine sessions.
The Lakhimpur Boat Clinic Unit led by District Programme Officer Tapan Bora while walking to an interior remote island of Dambukial on 21 st November 2017, over 3 kms from the Subansiri riverbank to cover children left out from Vitamin A, found a child with her mother near a paddy field. Then team checked the due list and accordingly gave her Vitamin A supplement. The others in the group included Lima Chutia ANM, Elizabeth Kom, GNM , a boat crew along with a local health worker In rural India most mothers take their children to the field. They therefore do not get the benefit of Government programmes often. Again sometimes these programmes do not reach the grass root level.
CRM team visit
A Central Review Monitoring (CRM) team comprising over thirty officers from the district, state and central government accompanied the Goalpara Boat Clinic team to a health camp at Kistomoni char under Lakhipur Block PHC in November 2017. During the camp the CRM team interacted with the ASHA/Anganwadi workers and visited beneficiaries from house to house and appreciated the good work being done by the health team in the field after getting a good response from the people. The CRM team mentioned that Boat Clinic is a unique initiate being taken by C-NES and NHM which could be felt after visiting the island villages.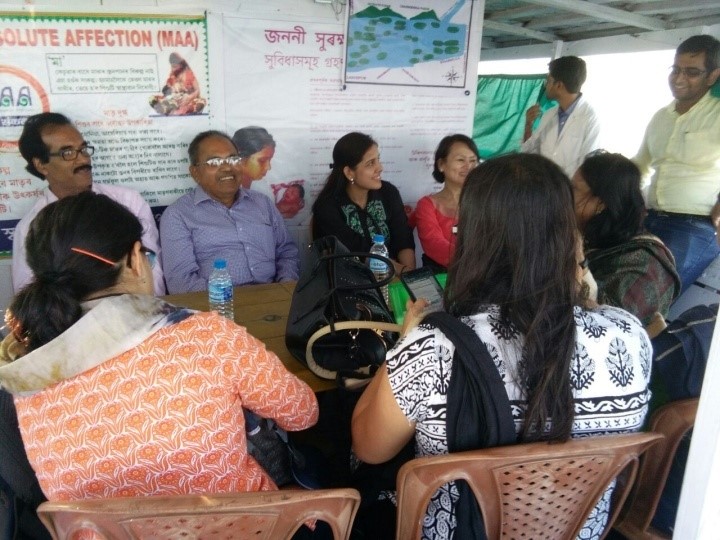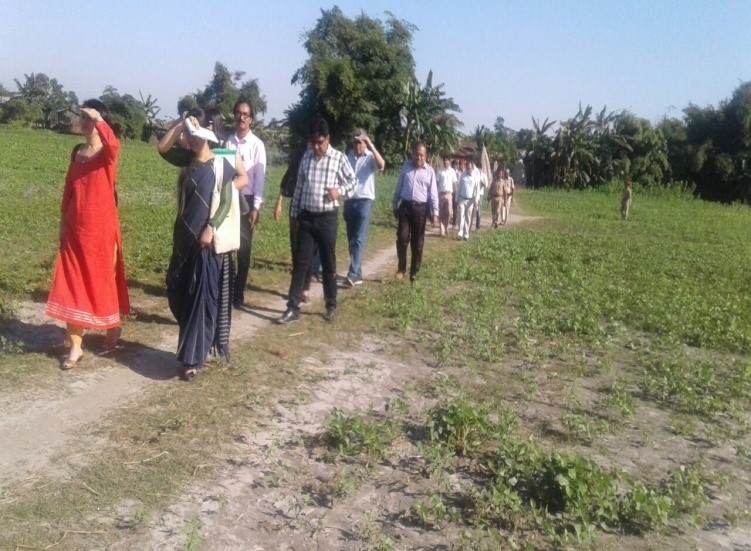 Visitor from Constellation
Philip Forth, Chair of Constellation and a member of its Global Support Team was present along with Rituu Nanda, Share Facilitator, Constellation and Ashok Rao Programme Manager, C-NES. at a community meeting held at Dunuria in December 2017 to understand the present (child) immunization status and overall progress. Constellation, a registered not for profit organization with its head office in Belgium through their Indian partner Samraksha have entered into a one year partnership with C-NES from February 2017 to work together on a project titled "Impact assessment of the SALT ( Stimulate, Appreciate, Learn and Transfer) approach of community engagement to increase immunizations coverage through ownership – a mixed methods study in Assam". The SALT approach of community engagement initiated by Constellation has been widely appreciated and used by different organizations globally. C-NES had been given the responsibility to conduct the project in 30 villages of Bongaigaon district The partnership's main objective is to improve children's health via increased immunization uptake.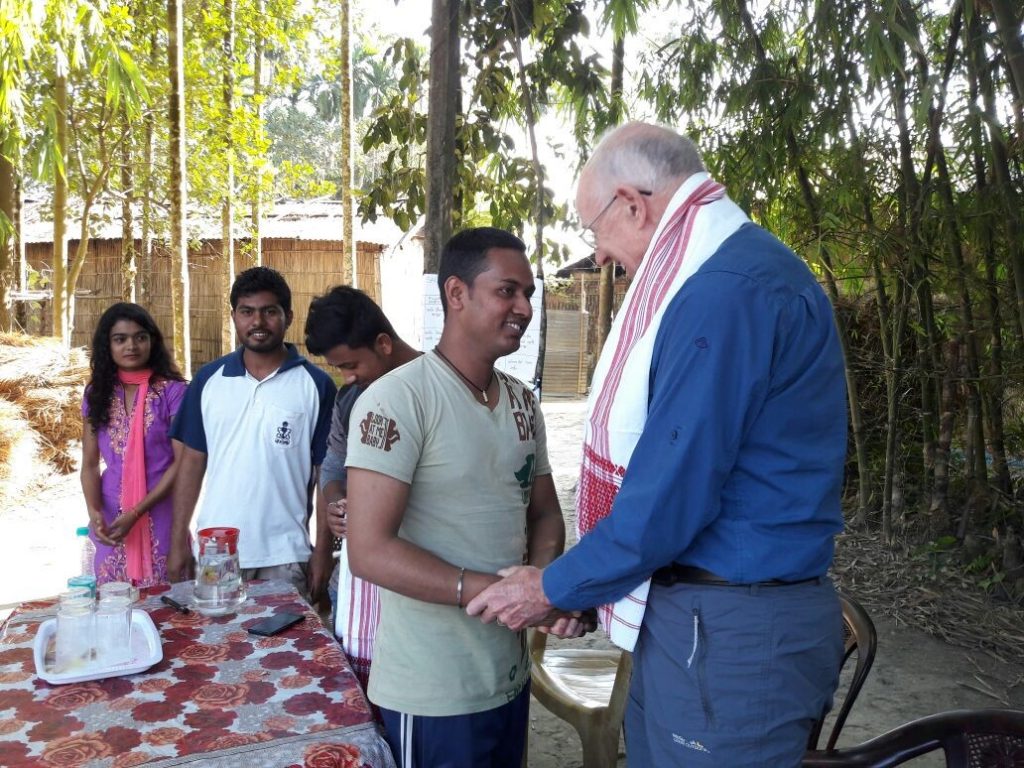 Screening of Rambuai
Rambuai, Mizoram's Trouble Years' a film by C-NES Managing Trustee Sanjoy Hazarika and Trustee Preeti Gill Rambuai – Mizoram's Troubled Years was screened at Azim Premji University Bangalore on October 30, 2017.Maulee Senapati is the Director (Technical) of the film. This is the fourth documentary that he and Hazarika have collaboration on in the past 10 year: Children of the River, the Xihus of Assam; A Measure of Impunity and Where there are No Roads. The film has been supported by the Heinrich Boll Stiftung(HBF), New Delhi, which focuses on thematic areas such as climate, resources, gender in socio-economic policy, democratic governance, India as a global actor and promotes national and international dialogue processes with a view to enhance the diversity of green thinking.
The film 'Rambuai' looks not just at the years of conflict and disturbances in this beautiful pocket of India, but also at the transition in mind-sets that has enabled peaceful change to endure, the resolve that drove the Indian State, and the challenges that remain.
Media on the Boat Clinics
https://newssense.in/2017/12/18/ships-hope-valley-floods/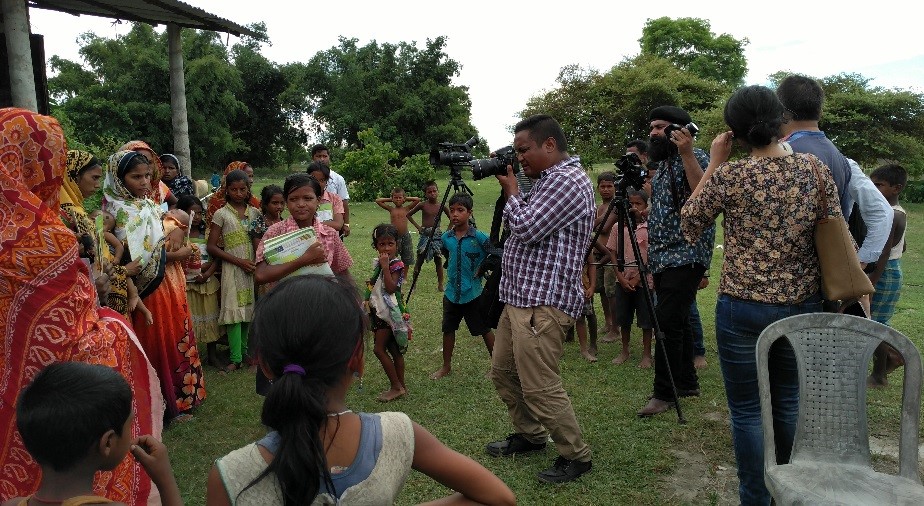 On 18th September a team of ten media persons attended a camp conducted by the Sonitpur Boat clinic at old Batuli Char to see routine immunization performances in the river islands of Assam along with a local channel NE 18. The team was led by UNICEF India. Out of four different media channels, two were print media and two from the electronic media.
A documentary team from NRL visited the Sonitpur Boat Clinic and attended a health team at old Dubramari char on 22nd September 2017 to shoot a eight minute documentary on Boat clinic's activities. It needs mention that Sonitpur Boat Clinic SB Numali was donated by NRL to C-NES.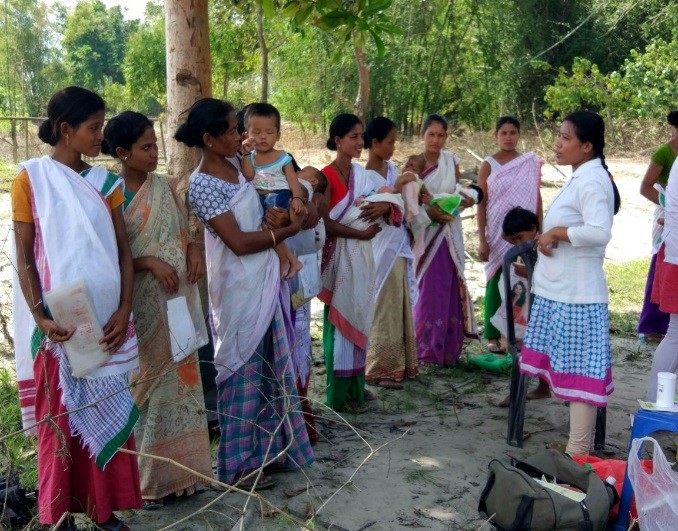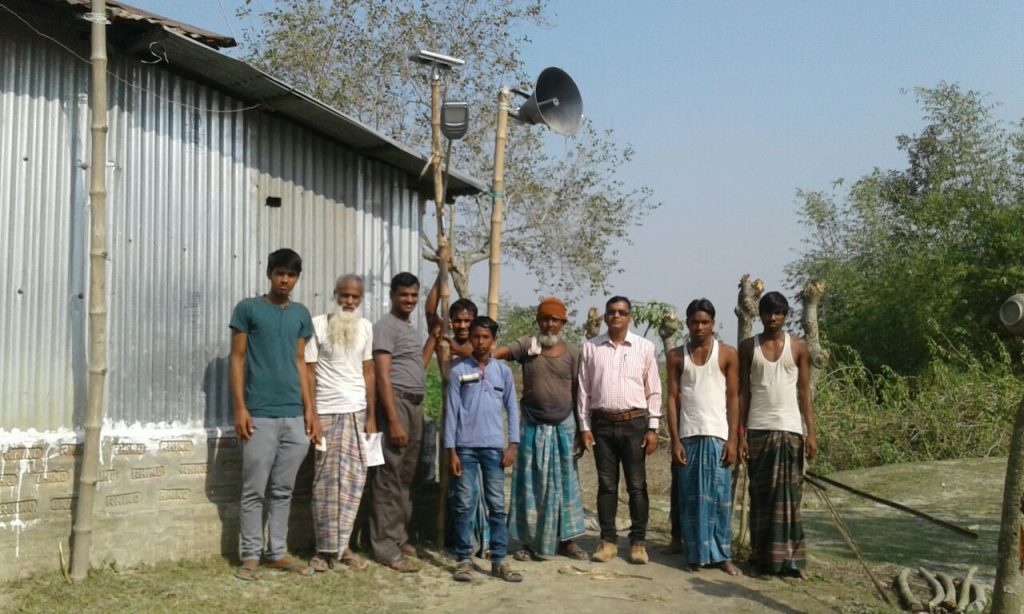 Solar Street Lights being installed at the Airanjongla Pt-ll by the Dhubri Unit I Boat Clinic team. Thanks to a philanthropist, remote villages in the Brahmaputra river islands in Assam are being lit up with solar street lights. The donor, Almitra Patel, based at Bengaluru is a member of the Supreme Court committee for Solid waste management for Class 1 cities, Technical expert, Swachh Bharat Mission, Government of India, Clean Jharkhand Project and Ganga ICDP Kanpur.
Successful Family Planning Intervention
On 7th December, 2017 there were two NSV sterilization cases conducted at Gahia MPHC by Dr.Nurul Hoque (NSV) surgeon. The cases were motivated by the Barpeta Boat Clinic,Unit-II. Although the DPO Swapna Das, the community workers and ANM had done home visits for NSV counseling,in this case the real motivator behind this successful family planning intervention was the Boat Clinic driver Yeasin Ali, The beneficiaries belonged to Rowmari Char. Motivating and counselling villagers,all belonging to religious minorities for family planning is a challenging job. On 11th December there was a third NSV case after sustained efforts, regular counselling, awareness session and taking prominent villagers and religious authorities into confidence the teams have been able to successfully intervene. According to DPO Swapna Das, in Barpeta district NSV performance is not good as per information from the DME, NHM. The District Media Expert and Block PHC always consults her team when it comes to NSV motivation
The DPO Barpeta II Swapna Das(standing right) attending a workshop on Advance Family planning facilitation in September 2017 organized by Jhpiego(an international non-profit health organization affiliated with Johns Hopkins University, USA) and the district health society, Barpeta. The importance of counseling was highlighted along with the need to make it mandatory in each health institution where a separate room for counselling with facilities should be included.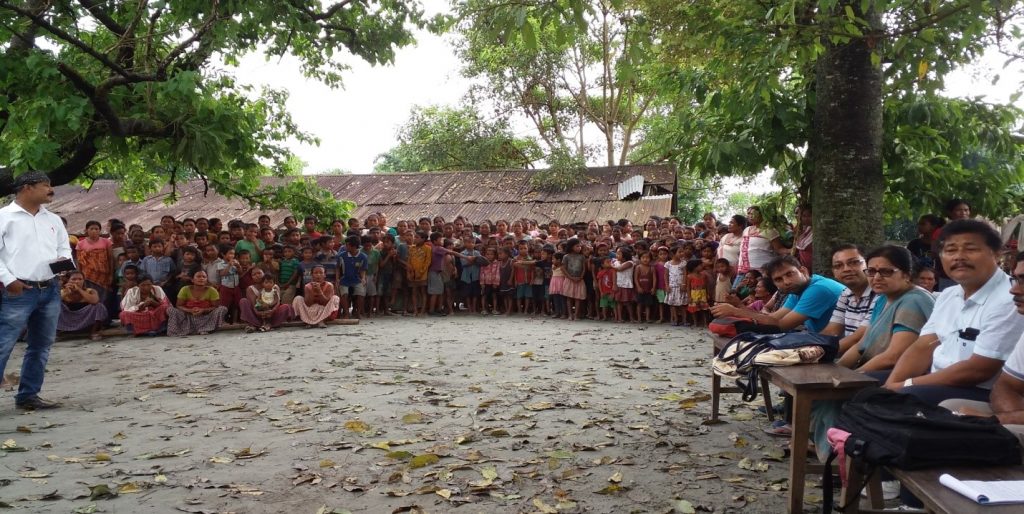 The Tinsukia Boat Clinic unit conducting a flood relief camp at Pamua under Hapjan BPHC on 2nd of September, 2017. The Boat Clinic team along with 25 people from different associations and District health Society visited Pamua village in the morning where about 300 villagers had gathered in a ME school. Foods and clothes were distributed to the villagers. The team provided health treatment to 252 villagers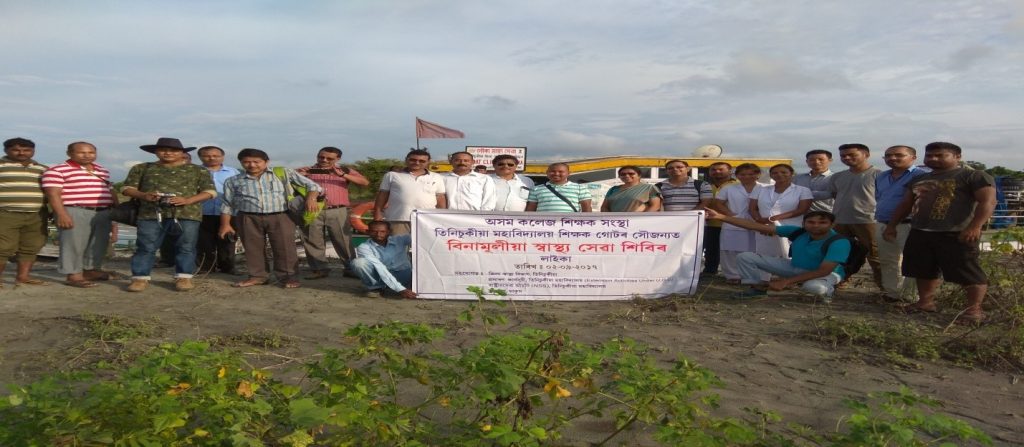 BCRS
C-NES' Community Radio Station at Dibrugarh, popularly called Radio Brahmaputra, provides platform and creates environment to the marginalized communities to learn and solve some of their own issues themselves. As part of the Participatory Community Research (CBPAR) a group of adolescent girls from Miajan, Mothola and Nagahuli Tea Estates near Dibrugarh participated in a Group Analysis Meet (GAM) after completing their community survey and compilation of data on why parents do not enroll their children in the school and why boys and girls from their localities left school
In November 2017 an awareness session on menstruation and food habit was held. Though a natural biological process, menstruation is often deemed a taboo in most cultures across India, more so in rural areas. The menstruation discourse is often shrouded by reticence. This is because a complicated network of taboos and customs surround it. In India, it is not uncommon to find mothers who find it extremely delicate to broach the subject of puberty and menstruation.
A group of girls from nearby tea gardens analyzed their food habits during their menstrual periods. They wrote down their learning and perception after the intervention on menstrual health and hygiene. Speaking out on menstruation and hygiene are part of the radio station's initiative.