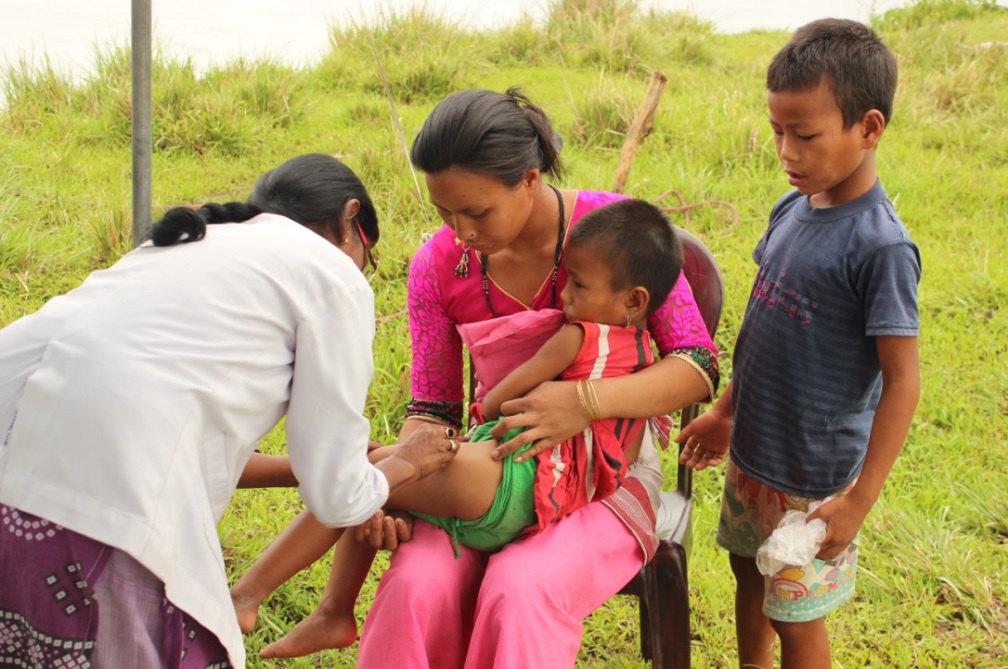 By the Brahmaputra (April–June 2016)
By the Brahmaputra (Vol: 34)
C-NES Newsletter
(For the Quarter April – June 2016)
Editorial
By the Brahmaputra
Vulnerability and a time of terror
In the space of a few dramatic weeks, so much has changed in our one and extremely vulnerable world– or seems to have. But has it, really? It just seems so much more vulnerable than ever before – as do so many of us.The horror attacks in Bangladesh are already swiftly fading from memory as is the bravery of the young man who paid for his life because he wanted to save two friends, one an Indian and the other a Bangladeshi; all three were students at Emory University in the United States.
I never met Faraaz Hossein but I have had the privilege, like many in Assam and the North-east, of knowing his wonderful maternal grandparents, the Latifur Rahmans. Latifur studied at St. Edmunds in Shillong and met his wife, from a prominent Assamese family when they were both students there. Latifur, dignified, modest and gracious, is the chairman of the large Transcom Group in Dhaka and of the two leading dailies in the country, Prothom Alo and The Daily Star. Our hearts go to them. We embrace their grief and can only hope that they can recover from this awful, mind-numbing tragedy.
What of the crazed brutal trucker and his assault on a joyful crowd of civilians in Nice, France? What of the eruption of anger in Jammu and Kashmir against the security forces, local police and the Government of India in Delhi after the killing of Burham Wani (I certainly hadn't heard of Wani before this incident but now, like me, I'm pretty sure that tens of millions have, whether they agree with his views or not), the attempted coup in Turkey and its President threatening to wipe out "the virus" of his opponents.
Go back a year. If not in Bangladesh – in France, where terrorist shootings, suicide bombings and explosions last November killed over 130 persons in a bloody trail spread across Europe's cultural and fashion capital. We are not going into who did what, when and to whom. That's a long, complicated and acutely challenging discussion.
But it is clear that the blood of innocents has been spilt for too long in the Middle East and in Europe, in India and its neighbourhood, across South East Asia and every part of the world. One recalls the consistent torment of the Palestinians, of their dispossession and their anger and hurt. They used tactics of terror to tackle their opponents and draw attention to their plight before they were able to sit down with Israel and hammer out a peace accord. No one can forget the massacres of the Jews in the Second World War at the hands of the Nazis and even attacks and discrimination. That has turned Israel into a fortress state, distrustful of its neighbours, determined to retain an upper hand over the Arab nations and subjugate its Palestinian citizens.
Yet, how does that –or any other reason — justify the killing of innocents, of literally bulldozing (for that is what that monster truck did in Nice) and crushing dozens of children, women and men, whose only fault was that they happened to be out in the open enjoying a grand French event. Each terrorist group or nation has invented its own justification for the violence that is perpetrated on another group or groups, whether in the name of religion, a country or a community.
Does the rationale for such acts of organized mayhem lie in the sphere of coherent reflection? Or is it triggered, first by a deep and abiding hatred of the other, the perceived enemy, whether for a perceived or actual slight or act which caused harm. Secondly, there is a determination which consumes the potential avenger, blinding him or her to everything else.Otherwise how can we explain the increasing degree of brutality by those who take hostages, conduct terror attacks or are part of terror networks? What is devastating different about these new groups is the levels of torture and pain they are prepared to inflict on their captives.
The events in Bangladesh are a marker in the growing levels of brutality. The shadowy group behind the butchery in the Dhaka restaurant was the Ansarullah Bangla Team. Although they had automatic weapons, for hours the young men who stormed the popular café tortured their victims with cleavers and knives before slashing them to death. That brutality was the sign off on earlier attacks on pro-democracy and anti-terrorist bloggers and activists as well as Hindu priests where machetes were the weapons of choice. The massacre of innocents in the bombing of the World Trade Centre in New York is another example.
There was one point which was noted by reporters and commentators immediately after the standoff in Dhaka: some of the young men in the killings were not poor and radicalized but children of privileged, affluent families who had chosen this path. Some of them had vanished for months before turning up in the assault on the Holey Artisan Café. Where they went is still not known or if known to the security agencies who are interrogating the lone survivor of the gang, they've not made it public yet.
One does not know what their relationships were like with their parents or siblings or close friends. Did anyone notice anything 'wrong'? One parent spoke of how his son had turned away from music which he loved because he felt it was irreligious. These were all answers blowing in the wind, only no one was prescient enough to catch the signs and put them together to make sense.
The news from Kerala of 21 young Muslim men and women who have 'disappeared' in search of radical roots is also disturbing. This is what community leaders, family members and local organizers will have to keep an eye out for in the next months and years across the country as new challenges grow to the Indian nation-State. Matters are not helped by the nastiness of some in the right-wing who seek to trash and demean others of different beliefs.
The new radicals in Bangladesh are said to be tech savvy, young, educated and highly motivated. The Ansarullah Bangla group is said to have connections across Bangladesh's border with West Bengal although no evidence has surfaced yet of a link to Assam and the North-east. The possibility is deeply worrying. Both Dhaka and New Delhi are said to be cooperating closely, pooling information and resources about the terrorist networks in Bangladesh.
Such networks are fiercely opposed to the current regime of Sheik Hasina Wajed and especially to those who speak of a more balanced and open society, with freedom of expression and religion. West Bengal's porous border with Bangladesh, despite a spurt in border fencing, enables smugglers, criminals and others to move across with relative ease. Leaders of the ruling Bharatiya Janata Party-led alliance in Assam continue to blame Bangladeshi 'illegal' migration across the state's tiny border (274 km) for most of its ills. However, we need to look frankly and within at issues of discrimination and distance, of lack of delivery of basic services in the borderlands which could also play a role in radicalization.
It may not be the 'foreign' hand that matters as much as the lack of access to rights and opportunities. The Assam Government and the Centre seem to believe that fences and walls will block baneful influences. But walls and barriers don't keep out ideas. We need to remember that they never have.
Sanjoy Hazarika
Managing Trustee
(From his regular column in the Assam Tribune published on 20th July 2016)
---
C-NES Interns
Boat Clinics have provided opportunities to students doing research on delivery of primary healthcare and education to the islands on the Brahmaputra. Research studies have been conducted by students from across the globe for the last eight years. While the interns have benefited from the unique work the organization does in the Brahmaputra valley be it in the spheres of health, education, conflicts and communications (through the Brahmaputra Community Radio Station) among others, the organization has also gained from their internship . Their work with the organization and the reports shared with C-NES has given the organization constructive feedback focusing as they do on both the positive impacts of the Boat Clinics and the organizations work as also the gaps which need filling up, valuable suggestions for improving service delivery with a fresh perspective.
Follows a report by intern Anjali Mariam Paul from the Azim Premji University, Bengalaru who did an intensive internship with C-NES for six weeks during June- July 2016:
When Saving Lives Becomes a Daily Adventure
There is something magical about watching a woman breastfeed her newborn for the first time, especially when it is in one of Assam's sand bars, where infant and maternal deaths are just as common as fevers and colds. The Auxiliary Nursing Midwives (ANMs) who have along with the boat clinics, just coincidentally come to this particular sand bar on their routine monthly visit, a day after this baby is born, instruct the mother as to how she should feed her baby, burp her, when and how to bathe her and how to gently hold her, supporting her neck and head at all times. The baby weighs about 3.3 kg and the mother is highly anaemic but a few hours into the delivery, both are looking healthy. Not many women in Assam are as lucky as her, that being said neither are many babies as Assam has the highest Maternal Mortality Rate and Infant Mortality Rate in the country, and has been this way since the late 1900s.
As a student of development, with no background whatsoever in the health sector, the past few weeks with C-NES' boat clinics has been a dumbfounding experience. In preparation for my 6 week internship here, I read as many articles, papers, state reports and basically any piece of literature I could lay my hands, be it fiction or non-fiction about Assam as this was my first trip to the North East and I wanted to be prepared. Little did I know that no amount of literature would even come close to define the destitution that I would witness on these forgotten islands, known as saporis or chars, which would pierce my soul and keep me awake into the wee hours of the morning.
Over the past few weeks, as I traversed along the mighty Brahmaputra, gulping in the fresh air and the exquisite view of Arunachal's hills draping the river on one side while I was in Dibrugarh and the Naga Hills when I was in Jorhat, sleeping under the starlit sky, never would I have dreamt that there would be death, destitution and deprivation lurking close by. Yet, that was the reality that would be unfolded to me in a few hours when Maternal Mortality Rates and Infant Mortality Rates wouldn't be just numbers but suddenly have names, families and now what remained, fond memories. I was privileged to spend 2 nights with the Dibrugarh and 5 nights with the Jorhat team of miracle workers, where I faced a mighty storm, leeches, unbelievably huge spiders, incessant rain and last but not the least, an unfortunate tumble out of a moving truck to actually see first hand what is happening in these islands which are excluded from the mainland, both physically and socially. I silently observed the boat crew as they set up a tent in a few minutes on the mainland, as soon as we docked and how methodically, the team of ANMs, GNM, Medical Officers, Laboratory Technicians, Pharmacist and the community workers set the tables up, with the required equipment, waiting for the patients to start trickling in. In Jorhat, the community worker set up a megaphone on the boat and informed the residents who stay in the interior areas of the islands (due to the fear of erosion) that the doctors have arrived. In addition to this, the ASHAs go around on their cycles, to the tenements in the islands to remind the women who are due for their routine antenatal checkups and to bring their children for their vaccinations and Vitamin A drops. I accompanied a community worker as he went to a makeshift govt. school (the school building got washed away due to the erosion caused by the raging Brahmaputra) to ask the teacher to send children who were suffering from cold, cough, fevers, skin irritations etc. to the health camp happening near the shore.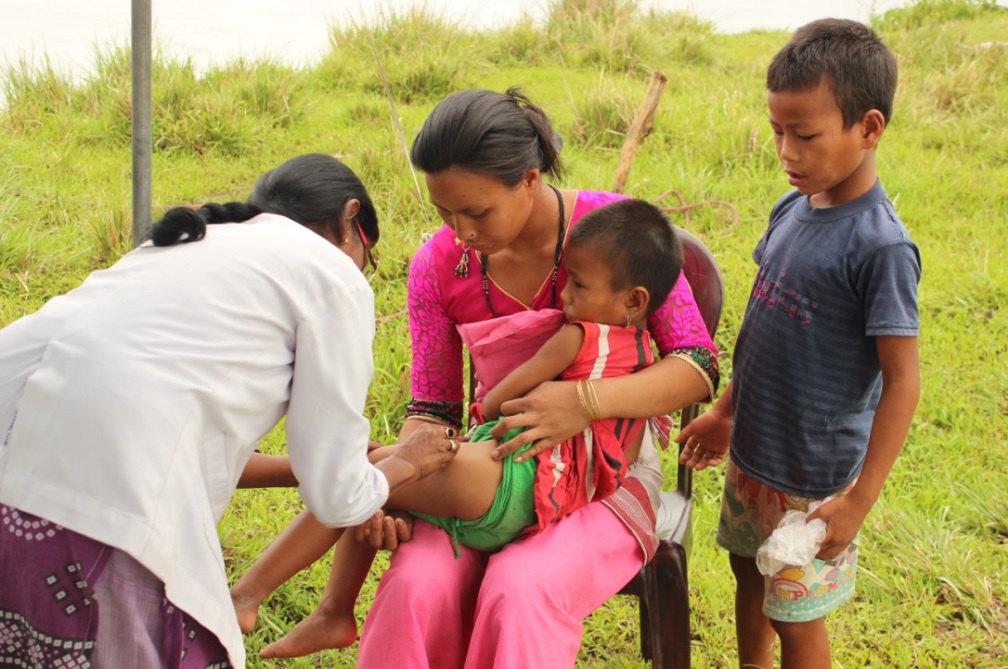 As the monsoons are just setting in, most of the patients suffer from respiratory issues, skin irritations and seasonal colds and fevers. The Medical Officers inform me that nearly 30% of the patients who come to these health camps are fake patients, who have come to hoard up on medicines, for when they might actually need them. Wouldn't you, if you knew that these boat clinics came in once a month and were giving away free medicines? There is so much that I want to say and it has taken me forever to pick the right story which will give you an essence of what life is like for the Medical Officers and ANMs on board the boat clinic and the lives they touch and sometimes are forced to let go of too early, because of the ignorance and lack of seriousness that prevails in these islands.
During my night trip in Dibrugarh, the presiding ANM, Damayanti Das who has been working with C-NES' boat clinics since 2008, painfully narrated a story about a young girl in one of these saporis, who got pregnant at a young age of around 16 and during an ANC, was found to have a weak heart. The presiding Medical Officer, Dr.B.C.Borah along with the ANM, Damayanti attempted to convince this young teen to have an abortion as it was highly critical to her and the baby's health. Her husband and in-laws were contacted and advised about the same but they refused to terminate her pregnancy. The doctor even referred her to a doctor in the Dibrugarh Medical College, who advised the same course of action and finally asked her to be admitted a few weeks prior to her delivery, to be monitored closely. The pregnant girl and her husband didn't take this issue seriously and waited till the last minute to be admitted, leading to her demise a few hours into delivery. Her newborn died a day later. The death of this pregnant girl marks the first and only maternal death in the islands of Dibrugarh since they started work here in 2008.
This medical team of Dibrugarh's boat clinic spend days conducting health camps on these islands, spreading awareness of family planning methods, immunisations, vaccinations, the right age to get pregnant, regularly attend their antenatal and postnatal checkups, eat nutritious food, maintain hygiene etc. yet there are situations which are beyond their control. That being said, most of the women I spoke to explained how it cost them about Rs.3,500/- to reach the mainland from their sand bars, which even the Rs.1,400/- paid by the government for institutional delivery, through the Janani Suraksha Yojna scheme didn't cover.
I remember the torturous, sleepless night which followed reading about Rakku, a fictional character who symbolised the state of poor maternal and infant health care in the rural areas of Tamil Nadu, in the 1970s. I remember the discussion in class and how it all seemed to distant and here I was in the midst of it all, listening to women talk about the death of their children, husbands talking about their wives dying as though it was a normal occurrence. I then remembered the number of people attending these health camps, going back with medicines for their illnesses and the faces of those dedicated and passionate miracle workers… doctors, nurses, laboratory technicians, pharmacists, community workers, ASHAs and the boat crew who knew these patients by name and smiled, knowing that all hope isn't lost… not yet.
(Picture Copyrights: Anjali Mariam Paul)
---
C-NES Intern at Radio Brahmaputra
Maclina Dutta, an MSW student from Amity University, Noida interned with C-NES' Radio Brahmaputra during June 2016. She writes:
During my internship with Radio Brahmaputra I visited a number of local villages with the reporters of Radio Brahmaputra who gave them lessons about various health issues and community related problems. Issues such as awareness on basic health care of women and children, care during pregnancy including the usage of the MCP card (Mother and Child Protection card).
At Maijaan Village, near the banks of the Brahmaputra, where villagers face problems such as flood, health and sanitation. a quiz competition related to child and mother's health was organized by BCRS. At Ethel wood Tea Estate, a narrow casting program was organized where the women from the tea tribe told us about the health related problems they have been facing this summer such as headache, diahhrea, viral fever etc. We wanted to know from them, what do they know about diarreah but they could not answer us. So we told them the causes of diarrhea as also the necessary steps to prevent it. Many new Government schemes were introduced to them. Radio Brahmaputra helped me in learning about relevant social issues which will inspire me to be a better social worker, even a better human being.
---
Media on the Boat Clinics
Held as a flagship innovative programme by the Government of Assam, the Central Government and UNICEF, the boat clinics along with other C-NES initiatives have been written about extensively in local, regional, national, and international media. Devjyot Ghosal, a roving editor at Quartz covered Boat Clinic Akha as he joined the Dibrugarh Boat Clinic team for a health camp in June 2016. Quartz, part of Atlantic Media, is a global business news website serving over 17 million readers every month worldwide, headquartered in New York, with bureaus in Asia, Africa, Europe and both US coasts.
Read more at http://qz.com/…octors-and-medicines-to-millions/
---
Training on Adolescent Health and Nutrition
A workshop  on Adolescent Health and Nutrition was held at Guwahati on 6th and 7th June 2016. Priakshi Borkakoti, State Consultant Nutrition, NHM Assam and Sikha Borthakur, State BCC Expert, NHM Assam were the resource persons at the workshop which was attended by 20 participants comprising of 10 ANMs, 4 Family Planning Counsellos an equal number of the PFI-C-NES intervened districts (Dhuburi , Morigaon , Barpeta , Bongaigaon and Sonitpur) along with members from the C-NES regional office at Guwahati . Sanjoy Hazarika, Managing Trustee, C-NES shared his thoughts with the participants appreciating the challenging work they do on the field. Chandana Borah, SA&FPC, C-NES briefly explained the objective of the programme, which was to build the capacity of the participants to educate and train adolescents and mothers of the island villages.
Priakshi Borkakoti spoke on nutrition including its basic function, macro and micro nutrients, about the importance of diet during adolescence and the dietary impact of anemia prevention very crucial for a state like Assam which has the highest MMR at 320 per 1 lakh live birth. (Anemic mothers are at risk with each child birth). She also emphasized the importance of nutrition to reduce adolescence anemia which is more among girls. Talking about faulty cooking process, she shared methods to retain and enhance the nutritional value of food during the process of cutting, washing, cooking and storing. Manik Boruah and Chandana Bora from C-NES took the sessions on health and hygiene. While the former emphasized on community and family hygiene, the latter spoke on personal hygiene including related infections in rural women observed in the field during insertion of IUCD, a major cause of sexually transmit disease (STD). Sikha Borthakur, State BCC Expert, NHM Assam, explained about different methods of relaying a message to the targeted community, adding that poverty is not a barrier to eating a proper diet. There are lots of food item locally and in the surrounding but one needs to acquire knowledge of how to make the best use of the available food items within reach for a healthy diet.
Group work on related themes were given, one of which was on writing a recipe for adolescents consisting at least 5 nutrients. The participants did well. ANM, Barpeta Boat Clinic unit II, Mamon Debi 's recipe "Laupalla Pitha" white gourd pancake which had a combination of vegetables, cereals, fat, sugar and iron was adjudged the best. The program ended with entertainment performed by the participants including Vicky Das from C-NES Guwahati office. Closing remarks was given by Dr. C.R Hira, Technical Consultant, C-NES.
.
---
C-NES Participation
TISS Capacity Building Workshop
Tata Institute of Social Sciences(TISS), a pioneer educational institution in social sciences with decades of experience in teaching, research, publications and field interventions has come forward to host 'National CSR Hub' to support Public Sector Enterprises(PSEs) for developing Corporate Social Responsibility(CSR) management capacity. The hub carries out activities in a partnership mode i.e. TISS, Civil Society Organizations (CSOs), and the concerned PSEs. Bhaswati Goswami, Communications Officer, C-NES attended a regional capacity building workshop "Preparing for CSR Partnerships for empaneled partners of TISS" at New Delhi's India Habitat Centre on 25th and 26th April 2016. She introduced C-NES and the organization's flagship programme, the Boat Clinics servicing remote Brahmaputra river islands with basic health facilities in Assam and spoke about how difficult it was to get CSR funds. She appreciated OIL, NRL Refinery, SBI and others for reaching out to C-NES through their proactive CSR policy. It needs mention that C-NES became an empaneled member of the National CSR Hub from July 2014. The workshop focussed on enhancement of knowledge and skills for fund raising, robust governance and organizational systems, financial management mechanisms, documentation and hand holding on proposal writing and building effective partnerships with donors and funder agencies.
In the rapidly evolving CSR pace of India the CSR professionals, NGO leaders need learning and sharing platforms to keep oneself abreast with developments and equip with required knowledge and skills. Hence TISS has initiated a series of learning workshops for corporates and non-profits on various aspects of CSR management as part of its capacity building initiatives to develop capacities of the not for profit organisations in India. The new Companies Act of 2013 mandates corporates to spend 2% of their profits on CSR activities. The government can take this opportunity to partner with the private sector, leading to a huge improvement in healthcare delivery in India through a combination of good infrastructure, latest technology and the best available medical expertise.
---
Management Development Programme on CSR
The Lions Club International: District 322D and Indian Institute of Corporate Affairs (IICA) conducted a two day Management Development Programme on Corporate Social Responsibility (CSR) on 3rd and 4th June, 2016 at Guwahati to build capacities of the organizations (Societies, Trusts and section 25/8 companies) on section 135 of the companies act, 2013 and all CSR related rules and guidelines therein. C-NES' Associate Program Manager, Manik Ch. Boruah attended the two day programme.
Gayatri Subramanium, Convener & Chief Programme Executive and Head- Implementation Agency (IA) Hub, National Foundation for Corporate Social Responsibility (NFCR) and Geetanjali Gaur, OA, NFCR on behalf of Indian Institute of Corporate Affairs facilitated the training. The NGOs which participated in the training were Swabalambi from Sonapur; Janavikas Kendra, Beltala, Guwahati; Digital Empowerment Foundation, Guwahati; Lions Club, Guwahati; Donbosco Institute and C-NES. CSR heads of IOCL, Digboi refinery, Numaligarh refinery and Bongaigaon refinery participated the conclave from the Public sector companies. An executive from Stone India Ltd. Kolkata gave a presentation on their unique invention "Biological Toilet Systems" as an option to be used by the corporates under the Swatch Bharat Mission.
Gayatri Subramanium gave a brief overview of the IICA established by the Ministry of Corporate Affairs, GoI as a think tank, service delivery, policy advisory and capacity building institution. She mentioned that India has the highest number of NGOs in the world. According to a survey report, India accounted for 3.3 million NGOs till 2009 i.e. one NGO against less 400 population and many times the number of Primary Schools and Health Centres. While talking about the implementation of CSR funds or projects, she mentioned that North East was either neglected or poorly supported by the corporates compare to other regions of the country. There might be lack of awareness among the NGOs or the proposals they have submitted to corporates might be below standard for consideration. Hence there is a dire need of capacity building trainings to the local NGOs on CSR and at the same time bring the corporates to the North East to support the people of this region through their CSR fund.
---
MT reviews Boat construction
The Managing Trustee, C-NES, Sanjoy Hazarika accompanied by Associate Programme Manager, Manik Ch. Boruah visited Alupatty char, Nagarbera, in lower Assam's Barpeta district on 24th June 2016. The visit was undertaken to see the progress of construction of S.B. Shekhar, one of the five boats donated by renowned economist and columnist Swaminathan Aiyar, a personal friend of Hazarika, and named after his son, Shekhar. The other four boats have been similarly named after members of Aiyar's family.
The boat is being constructed by local boat builder Md. Ismail Hussain. The hull is completed, and the construction of the body is on to be followed by the cabin soon. The builder mentioned that he has ordered a 35 BHP self-starter engine (Alamgir Company) for the boat which is expected to reach Nagarbera on 28th June 2016.
Reviewing the construction, the MT said that he was satisfied with both the quality of wood (Sal) used and quality of work. On wanting to know a possible time frame for its completion, Ismail said that he would be able to deliver the boat, 70 ft long and 14 ft wide (at the centre), by the end of July. All of C-NES' fleet of Boat Clinics(15 in all ) follow a standard design with few modifications according to local conditions and whether the boat is a hired one or is C-NES owned.
This was the second visit of the M T to Nagarbera. The first was in 2008 to find boats to be used for the then newly upscaled Boat Clinic districts (on a hired basis) to provide health care services to the island dwellers in association with NHM. Subsequently Hussain provided the first hired boat for the Morigaon Boat Clinic unit which continues its services in Morigaon till date.
With peak monsoons, the Brahmaputra was in full spate and forceful currents made the upward journey difficult and challenging on a local Bhotbhoti (motorized boat). At the confluence where the Jaljali and Brahmaputra meet, the river was the most turbulent. The return journey, downstream was faster. It may be mentioned that boat building as a traditional skill has long been practised in this area from over a century ago, along with a few more places in upper Assam. Timber was supplied from this area since the days of the British along with jute and bamboo, all in plentiful supply then. Today it is a sadly dying craft, as is the case with a lot more traditional skills, in Assam. Subsequent generations are reluctant to take it up. Few skilled boat builders remain therefore.
---
WHO team visits CNES
A team from World Health Organization – India led by Dr Debashish RoyRegional Team Leader, East visited the C-NES regional office Guwahati on May 2016 to understand the concept and functioning of the Boat Clinic health intervention. (From left) Manik Boruah, APM, Bhaswati Goswami,Communications officer, Ashok Rao, Programme Manager,C-NES with Dr Roy (second from right) and Dr K Deka from WHO.
---
Brahmaputra Community Radio Station
C-NES' Brahmaputra Community Radio Station, popularly known as Radio Brahmaputra is based at Dibrugarh, very close to where the mighty river flows by at Maijan ghat. The station is unique in the sense that it caters to the needs and aspirations of people belonging to as many as five communities residing around the area in as many local languages – Shadri (dialect of the tea tribe community), Assamese, Bhojpuri, Bodo, and Mishing. While BCRS seeks to reach the most marginalised groups in 14 islands and 30 tea plantations and more than 180 villages in Dibrugarh district, its footprint reaches across the Brahmaputra to other districts as well. Today it broadcasts for eight hours every day on FM 90.4 from Dibrugarh and can be heard in three districts along and across the Brahmaputra.
On 10 July, 2016, the radio station completed one year of formal broadcasting. On this occasion, the BCRS team organized a small event at Radio Brahmaputra, attended by few regular listeners and well-wishers. The team awarded two best volunteers -Swaraswati Sahani and Arup Sonowal for the year of 2015-16 with a certificate and a radio set each.
Earlier on 6th May 2016 an Assamese programme Beli Mar Gol (The sun has set) completed one year of broadcasting. On this occasion, a live program was organized for a week from 6 to 7 pm where listeners gave active feedback. In this programme listeners are informed about the happenings of the day under different segments including history of the day, weather information, regular health tips, positive news from local newspaper, folk tales, information on good practices like safety during disaster, cleanliness practice, primary health practice etc. with folk music of our local artist. This programme will henceforth be telecast for 2 hours everyday.
Swaraswati Sahani and Arup Sonowal were awarded the best volunteers for the year of 2015-16. A certificate and a radio set was awarded to each of them.
---
From the field
Medical Officer of Jorhat Boat Clinic with beneficiaries
An awareness camp was held in Kamrup districts Kalardia village on 27th April 2016. The health team reached Kalardia village at 12.30 pm after a one and half hour boat journey. Samadrita Borah, Nutrition counselor from Chaygaon PHC accompanied the team to the camp. Like previous awareness camps, the camp started with an art competition among the school Children. The Boat Clinic team provided the required Art Paper, Wax Color pencil etc. to the students for the competition where 52 students from Kalardia L.P. School participated. The meeting was presided over Md Abdus sattar Ali, the Head Master of the School. Abdur Rahim Community Worker spoke about the objectives of meeting. Dr Prakash Barman addressed various health related issues and interacted with the villagers. The session was interactive and the participants raised many questions which were answered by Dr. Barman and Dr. Gunajit Deka. Samadrita Borah, the Nutrition counsellor spoke about how to maintain good health with good food habits. Md Lalmamud Ali, the Boat Clinic unit community worker spoke on family planning in their dialect.
A training for ASHAs from both mainland and river island on family planning was organized by the DHS at Bongaigaon's District traning centre (above) on 21st June 2016. The Boat Clinic area ASHA along with 60 other ASHA workers were given the training . Dr. Abhijit Basu, Superintendent Civil hospital was the resource person.
On 25th May the Bongaigaon Boat Clinic team organized a mega awareness programme on family planning supported by PFI at Iswarjari Pt II L.P.School with staff from the DPM unit as resource persons . The DPO and MO also attended a workshop on 29th and 30th June, 2016 organized by the District Health Society on IDCF. They received IEC/BCC materials and Drugs for the programnme.
Boat Clinic Goalpara team on way to health camp on horse carts provided by local villagers at Bamuni Bamuneralga-III char on 28th May,2016. The team conducted a special IUCD camp at North Katlamari and South Katlamari char under Agia PHC where there were 11 successful IUCD insertions. On the 30th May the team also conducted a special Laparoscopic Sterilization(LS) camp where 8 successfully LSs were done with the help of Agia PHC.
In April 2016 there were major storm in some river islands. The Barpeta Unit II found houses damaged and people with minor injuries when they visited Garala Suti for relief camp. Agricultural land and crops were damaged..(Photographs above) While the boat was docked on the river bank, the community workers with the DPO visited the char village by bike and met Asha Monowara Khatun and conducted a survey of the area. The injured were attended to Medical Officer of Jorhat Boat Clinic with beneficiaries.
With peak monsoons and flood waters entering riverine villages, children in this sapori village covered by the Jorhat Boat Clinic find ways of entertaining themselves (left) Villagers using country boats to reach campsite for a camp conducted by the Jorhat boat clinic team (right).
Veteran Boat Builder from upper Assam Kamal Gurung who has built most of C-NES' Boats including the first Boat Clinic Akha which services Dibrugarh district, at C-NES regional office ,Guwahati. From left Hiranya Deka, DPO Kamrup, Ashok Rao, Programme Manager, Bhaswati Goswami, Communications Officer, Kamal Gurung and Manik Baruah, APM, C-NES.