Health campaign gets big push: three new vessels for three districts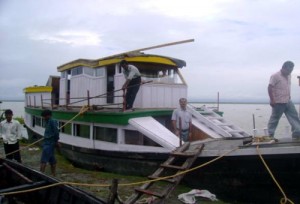 SB Swaminathan, Tunsukia
The C-NES-NRHM partnership's health campaign through our boat clinics in the Brahmaputra Valley got a surge of energy in the past weeks with three new boats being pressed into service in Tinsukia, Morigaon and Dhubri districts.
The SB Swaminathan and SB Rustam, which have been funded from donations by the prominent editor and economic specialist, Swaminathan S. Aiyar, and his wife, Shahnaz, have been built at Dibrugarh and Dhubri respectively. The first is for the district of Tinsukia, neighbouring Dibrugarh, while Rustam is serving Dhubri on Assam's south western border with Bangladesh. The Aiyars have funded five boat clinics which are assets of C-NES.
SB Rustam has been operating in Dhubri since August 1st 2008; Swaminathanis to make its first official trip on 24 September, 2008. The Deputy Commissioner of Tinsukia, Joint Director Health and other health officials has been invited for its first trip.
A hired boat for Morigaon district in Central Assam has also been completed, built to the specifications developed by Mr. Sanjoy Hazarika and his Project Management team (Ashok Rao and Sanjay Sharma)  was launched there on 22 September 2008. The Morigaon boat has been hired from local entrepreneur Md Ismail Hussain.
The construction of SB Rustam and SB Swaminathan were delayed by inclement weather which has been plaguing Assam from the beginning of the year. There are facilities for OPD, one laboratory, two cabins, one kitchen, and medicine chests, one 200 litre water tank, toilet facilities, a nurse's room, one generator and audio visual aids. Laboratory equipments have been the latest addition.
---
Akha, the pioneer boat of C-NES, has been in operation in Dibrugarh since May 2005, and is currently supported by the National Rural Health Mission (NRHM) and UNICEF. It has also received backing from the District Administration and the district health department. Earlier, it had been supported also by the Rashtriya Gramin Vikash Nidhi (RGVN), Jalan Industries Ltd., Oil India Ltd., Indian Oil Corporation (Assam Oil Division), District Rural Development Agency (DRDA).
Local and national media have been highlighting the C-NES endeavor. Since the launch of Akha, C-NES has upscaled the boat clinic initiative to five districts (Dhubri, Morigaon, Dhemaji, Dibrugarh and Tinsukia) under a Public Private Partnership with NRHM, Assam. SB Shahnaz has been providing health services in the saporis of Dhemaji district since 2006.
The goal is to conduct 20 health and immunization camps per month. In one trip, 3-5 camps are held on the islands. The clinics provide the following services – Routine Immunization of children 0-5 years and Ante Natal Care(ANC) to pregnant mothers, Vitamin A Supplementation, Pulse Polio Immunization, JE vaccination (Special Programme), General health Check ups of Patients, Family Planning activities, IEC & BCC Activities etc. In addition, routine pathological tests are conducted on the laboratory on board each boat.